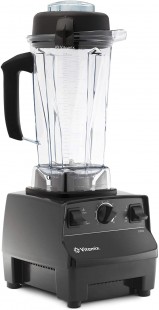 Reasons to buy Vitamix 5200 Blender:
Variable Speed + High Power create a variety of textures.
Precise Container Design folds ingredients back to the blades.
64-ounce Container is ideal for blending everything.
High-Performance Motor transforms tough ingredients to smooth blends.
Check price here....
summary Review:
PERFORMANCE

Vitamix 5200 Blender

Smoothie Maker
Capacity
Stainless steel Blade
Makes Hot Soups
Self-Cleaning Container
Easy To Clean
Heavy / Commercial Duty Performance
Ideal for blending medium to large batches

FEATURES

Vitamix 5200 Blender

Pulse Button
Commercial-Grade Motor
Sturdy Base
Variable Speed Control
comes with a tamper
High-Performance Motor
Ice Crusher
BPA-Free Jar

DESIGN
CONCLUSION
Smoothie Maker
Yes
Turn fruits and veggies into refreshing smoothies and juices. Vitamix blenders use the whole ingredient, including fiber, to make healthy snacks.
Stainless steel Blade
Yes
It is made with stainless steel blades designed to deliver the same quality results, from the first blend to the last, and is resistant to dulling or bending.
Makes Hot Soups
Yes
The blades reach speeds fast enough to create friction heat, bringing cold ingredients to steaming hot in about six minutes.
Self-Cleaning Container
Yes
With a drop of dish soap and warm water, your Vitamix machine can clean itself in 30 to 60 seconds.
Easy To Clean
Yes
Just blend warm water and a drop of dish soap at your machine's highest speed, and watch it self-clean in 60 seconds—no disassembly required.
Pair with any SELF-DETECT containers
Heavy / Commercial Duty Performance
Yes
A radial cooling fan and thermal protection system make it a heavy-duty appliance.
Ideal for blending medium to large batches
Yes
The size and shape of the self-cleaning 64-ounce container are ideal for blending medium to large batches.
Pulse Button
Yes
The Vitamix 5200 is amazing for crushing ice. You can simulate a Pulse mode by switching the blender on and off while set to the 'High' speed setting, which makes bar-quality crushed ice in about two minutes.
Commercial-Grade Motor
Yes
The powerful motor and durable construction make this classic blender one of the best heavy-duty blenders on the market. It is a commercial-grade blender.
Sturdy Base
Yes
The base is strongly and solidly built in the USA with the strongest of materials which makes it durable.
Variable Speed Control
Yes
Easily adjust speed to achieve a variety of textures. The dial can be rotated at any point during the blend, so you're in complete control.
comes with a tamper
Yes
Every Vitamix blender comes with a tamper designed to help process thick, stubborn blends—so you don't have to stop the machine to scrape the sides.
High-Performance Motor
Yes
Available- Blend frozen fruit, heavy powder, and all the greens—the powerful motors transform tough ingredients into smooth blends, year after year.
Ice Crusher
Yes
Hardened stainless steel blades can crush ice like it is no challenge.
BPA-Free Jar
Yes
It's incredibly durable, versatile, and easy to clean – all qualities Vitamix owners value in a blending container. And, since it comes with a clear, BPA-free lid, you can monitor and adjust blends without stopping the machine.
Watts
Yes
Approximately it is between 1200 watts to 1380 watts.
PROS
Yes
• Storing this blender is in no way a hassle for it sits right under your cabinet and can be left in one place on the counter where you need it. Because of its compact size, the most powerful Vitamix motor fits in the standard 18" space. • The cookbook is convenient and filled with scrumptious recipes. • Function wise it is great and can easily blend everything. • This blender is so powerful that it can even blend and destroy chia seeds. • Quality and long-lasting materials are used on this blender which makes it a durable appliance in your kitchen. • It gives you results with a smooth consistency from the toughest ingredients. • It can crash ICE. • Versatility like making salsa, smoothies, ice cream, dough, to hot soups. • Very powerful and can blend almost anything. • Easy to make nut butter or thicker recipes like hummus. • Large capacity and holds a lot in a batch. • 10 variable speed controls. • Compatible with several useful Vitamix accessories. • Works with wet and dry blades. • Easy to clean with self-cleaning function. • Very durable and reliable. • Built to last with quality parts. • Includes a tamper for harder to blend mixtures. • Excellent 7-year warranty.
CONS
Yes
• For a juice blender, this appliance is kind of expensive and overpriced but with all the good features, it definitely is worth it. • Unfortunately this is not dishwasher safe; therefore cleaning it is a chore. It is wise though to clean it immediately after blending for then the increase easily comes off. • There is a bit of a learning curve needed when using this blender but it becomes fun after you get the hang of it. • A few people complain about the noise and loudness. • Not the most affordable blender. • Pitcher is difficult to pour for some customers. • Harder to clean because blades aren't supposed to be removed. • No pre-set programs like the Vitamix 750 Professional Series or other models. • No pulse mode, but can still do pulsing jobs. • Plastic top can be annoying. • Fairly bulky and large (you can buy low profile container).
WAS THIS REVIEW HELPFUL TO YOU? IF YES, PLEASE SHARE IT WITH A FRIEND.