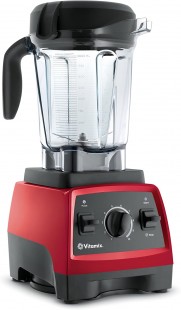 Reasons to buy Vitamix 7500 Blender:
Hardened Stainless-Steel Blades.
Specially Designed Tamper
Low-Profile 64-ounce Container.
Variable Speed Control + Pulse.
Check price here....
summary Review:
PERFORMANCE

Vitamix 7500 Blender

Smoothie Maker
Capacity
Stainless steel Blade
Makes Hot Soups
Self-Cleaning Container
Easy To Clean
Heavy / Commercial Duty Performance
Quiet
Ideal for blending medium to large batches

FEATURES

Vitamix 7500 Blender

Pulse Button
Commercial-Grade Motor
Sturdy Base
Variable Speed Control
comes with a tamper
High-Performance Motor
Ice Crusher
BPA-Free Jar

DESIGN

Vitamix 7500 Blender

Volts
Watts
Low Profile Container
Low Profile Blender

CONCLUSION
Smoothie Maker
Yes
The 64-ounce Low-Profile container is the perfect size for family meals and entertaining, while intuitive controls make it easy to create everything from smoothies to hot soup and more.
Stainless steel Blade
Yes
It is made with stainless steel blades designed to deliver the same quality results, from first blend to last and are resistant to dulling or bending.
Makes Hot Soups
Yes
The blades reach speeds fast enough to create friction heat, bringing cold ingredients to steaming hot in about six minutes.
Self-Cleaning Container
Yes
With a drop of dish soap and warm water, your Vitamix machine can clean itself in 30 to 60 seconds.
Easy To Clean
Yes
Just blend warm water and a drop of dish soap at your machine's highest speed, and watch it self-clean in 60 seconds—no disassembly required.
Pair with any SELF-DETECT containers
Heavy / Commercial Duty Performance
Yes
A radial cooling fan and thermal protection system make it a heavy-duty appliance.
Quiet
Yes
Blender is 40% quieter than the Vitamix CIA with 7 dB of sound reduction. The 1,440-watt motor harnesses 2.2 horsepower.
Ideal for blending medium to large batches
Yes
The size and shape of the self-cleaning 64-ounce container are ideal for blending medium to large batches.
Pulse Button
Yes
You can simulate a Pulse mode by switching the blender on and off while set to the 'High' speed setting, which makes bar-quality crushed ice in about two minutes. This pulse feature makes chunky salsas, thick vegetable soups, and more.
Commercial-Grade Motor
Yes
The powerful motor and durable construction make this classic blender one of the best heavy-duty blenders on the market. It is a commercial-grade blender.
Sturdy Base
Yes
The base is strongly and solidly built in the USA with the strongest of materials which makes it durable.
Variable Speed Control
Yes
Easily adjust speed to achieve a variety of textures. The dial can be rotated at any point during the blend, so you're in complete control.
comes with a tamper
Yes
Every Vitamix blender comes with a tamper designed to help process thick, stubborn blends—so you don't have to stop the machine to scrape the sides.
High-Performance Motor
Yes
Available- Blend frozen fruit, heavy powder, and all the greens—the powerful motors transform tough ingredients into smooth blends, year after year.
Ice Crusher
Yes
Hardened stainless steel blades can crush ice like it is no challenge.
BPA-Free Jar
Yes
It's incredibly durable, versatile, and easy to clean – all qualities Vitamix owners value in a blending container. And, since it comes with a clear, BPA-free lid, you can monitor and adjust blends without stopping the machine.
Low Profile Container
Yes
Available- the low-profile container was designed to fit easily under most overhead cabinets, so you can keep your Vitamix on the counter and ready to go
Low Profile Blender
Yes
It is designed as a low-profile blender which makes storing easy and efficient.
PROS
Yes
• Classic design • More powerful motor • 10 variable speed • Pulse control • 64-ounce (1.89 L) low-profile container included • Vented lid • The lid plug comes with 2 oz. (59 mL) markings • Durable Stainless steel blade • Less noisy than the Explorian Series • Longer cord • BPA-free • 7-year warranty • The Vitamix 7500 has a thermal protection feature that prevents the machine from overheating. • It can blend harsh ingredients effortlessly. • The wet and dry blades allow the blender to be used for multiple purposes. • The 7500 by Vitamix has a broad base which makes cleaning and maintenance easy. • This shorter and low-profile design blender can fit perfectly into a kitchen cabinet. • It is 7 decibels less noisy than the older versions manufactured by Vitamix.
CONS
Yes
• It is very powerful there are no suction cups on the bottom to keep it from moving. • The container does not latch into place on the base. • People say it's very loud. • Because there are 4 blades, it can be a little difficult to clean in making peanut butter. • It is not dishwasher safe. • Abit is pricier than newer models. • No preset for self-cleaning • No smart features. • The sides of the machine get foggy while preparing hot soups. • Some people prefer glass blender jars. • Blender is louder than some people want.
WAS THIS REVIEW HELPFUL TO YOU? IF YES, PLEASE SHARE IT WITH A FRIEND.