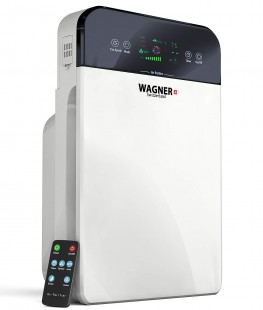 Reasons to buy Wagner H885:
True HEPA Filter 5-Stage Purification.
Removes 99.97% of dirt, dust and allergens
Sense Technology
Premium Air Purifier
Check price here....
summary Review:
PERFORMANCE

Wagner H885

HEPA FILTER
TIMER
REMOVES CIGARETTE ODOR
ROOM SIZE AND AIRFLOW
FIGHTS GERMS
ELIMINATES DUST MITES
REMOVES PET DANDER
GETS RID OF POLLEN
REMOVES SMOKE
REMOVES MOLD
TRAPS ALLERGENS
QUIET OPERATION
AUTOMATICALLY DETECTS AIRBORNE PARTICLES
SLEEP MODE
WATTAGE

USABILITY

Wagner H885

CONTROLS AND MODES
ECONOMICAL
AFFORDABLE
IDEAL FOR ASTHMATIC PEOPLE
REMOTE CONTROL
FILTER LIFE - BASED ON USE

SAFETY
APPEARANCE

Wagner H885

DESIGN
SIZE AND APPEARANCE
WEIGHT
HEPA FILTER
Yes
Device has a true HEPA filter having 5 stages of purification that is proven to clean 99.97% of airborne particles as well as larger particles.
TIMER
Yes
Device has a timer that allows you to run the device for 8 hours before automatically switching off.
REMOVES CIGARETTE ODOR
Yes
The air filtration system contains an active carbon and ion generator that cleans cigarette odor as well as keeping the air fresh.
FIGHTS GERMS
Yes
The true HEPA filter as well as the 4 stage air purification enables 99.97% of germ eradication in the room.
ELIMINATES DUST MITES
Yes
Device has a pre-filter stage that is useful in getting rid of larger particles such as dust mites.
REMOVES PET DANDER
Yes
The device has 5 purification stages that work together to remove 99.97% of pet dander in the room.
GETS RID OF POLLEN
Yes
The device's powerful filtration system together with the true H13 HEPA filter are proven to work strongly to get rid of pollen giving 99,97% air purity results.
REMOVES SMOKE
Yes
A 400 sq. ft. room can be a kitchen that harbors a lot of smoke in the house; this device is perfect for getting rid of the smoke and producing negative ions that clear the air to your inhalation desire.
REMOVES MOLD
Yes
Mold could have risen under your carpet or any hidden places, this air purifier is proven to make use of its powerful filtration system to get rid of it in any hidden places in the room.
TRAPS ALLERGENS
Yes
Device traps and eliminates 99.97% of allergens and other pollutants as small as 0.3 microns using its true HEPA filter.
QUIET OPERATION
Yes
This air filtration system is a quiet product with low noise levels at just 21-45dB. Using a quiet copper motor, it silently sanitizes the air for healthy breathing.
AUTOMATICALLY DETECTS AIRBORNE PARTICLES
Yes
Device has an i-sense technology for reading the air in the surrounding room using the i-sense detection system and it automatically suggests the right fan speed basing on the air quality.
SLEEP MODE
Yes
Device has a sleep mode at night that ensures night time performance on an 8-hour timer.
WATTAGE
Yes
The device uses 35 watts of energy.
CONTROLS AND MODES
Yes
Device has a smart control panel that includes a sleep mode, eco mode and auto mode. It also has a timer and fan speed control option.
FILTER REPLACEMENT REMINDER
ECONOMICAL
Yes
This device uses 35W of energy at the highest speed making it power saving. Additionally it has 3 year warranty for any parts on the device.
AFFORDABLE
Yes
This air purifier is an affordable choice for a good number of buyers.
IDEAL FOR ASTHMATIC PEOPLE
Yes
This air purifier is ideal for allergic and asthmatic people since it has a 99.97% of allergen trapping as well
REMOTE CONTROL
Yes
A wireless remote control is included in the package for convenient access to control the device.
FILTER LIFE - BASED ON USE
Yes
It is recommended that the filter life based on daily use should be within 6 to 8 months.
CHILD LOCK
Yes
Device has a built in safety switch turning device off after 12 hours of continuous use.
DESIGN
Yes
Device has a modern and light weight design.
WEIGHT
Yes
Device weighs 13.23 pounds.
WAS THIS REVIEW HELPFUL TO YOU? IF YES, PLEASE SHARE IT WITH A FRIEND.