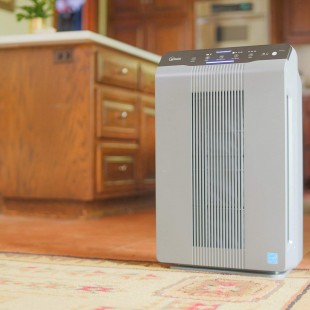 Reasons to buy Winix 5300 2:
Has a 3-stage system that cleans 99.97% pollutants.
It can remove several allergens
Purifies your room-air automatically
Suitable for medium and large rooms
Check price here....
summary Review:
PERFORMANCE

Winix 5300 2

HEPA FILTER
TIMER
REMOVES CIGARETTE ODOR
ROOM SIZE AND AIRFLOW
FIGHTS GERMS
ELIMINATES DUST MITES
REMOVES PET DANDER
GETS RID OF POLLEN
REMOVES SMOKE
REMOVES MOLD
TRAPS ALLERGENS
QUIET OPERATION
WASHABLE PRE-FILTERS
EASY FILTER REPLACEMENT
AUTOMATICALLY DETECTS AIRBORNE PARTICLES
SLEEP MODE
WATTAGE
ENERGY STAR

USABILITY

Winix 5300 2

CONTROLS AND MODES
FILTER REPLACEMENT REMINDER
ECONOMICAL
AFFORDABLE
IDEAL FOR ASTHMATIC PEOPLE
FILTER LIFE - BASED ON USE

SAFETY
APPEARANCE

Winix 5300 2

DESIGN
SIZE AND APPEARANCE
WEIGHT
HEPA FILTER
Yes
It uses a True-HEPA filter which captures up to 99.97% of airborne particles that pollute the air you breath while indoors.
TIMER
Yes
Yes, Via the control panel you will see a Timer button that you can press to select a desired length of time.
REMOVES CIGARETTE ODOR
Yes
It will eliminate cigarette odor & smoke using both the PlasmaWave Technology and a True HEPA filter to capture up to 99.97% of cigarette smoke.
ROOM SIZE AND AIRFLOW
Yes
Its room coverage is 360 sq.ft While its Air flow CADR rating for Dust - is 243 Sq.ft, Pollen - 246 Sq.ft and for Smoke - 232 Sq.ft.
FIGHTS GERMS
Yes
PlasmaWave technology creates Hydroxyls which neutralize bacteria and germs that could make you sick.
ELIMINATES DUST MITES
Yes
The True HEPA filter will trap all air pollutants of size 0.3 microns and dust mites are of this size.
REMOVES PET DANDER
Yes
It uses a True HEPA filter to remove pet dander & far which makes it perfect for use in homes with Allergic & Asthmatic people.
GETS RID OF POLLEN
Yes
It can capture and remove 99.97% of pollen from indoor air thus making it safe to breathe.
REMOVES SMOKE
Yes
It uses a 3 Stage Air Purification system with a coated carbon filter that reduces smoke, household odors from the kitchen, pets odor and VOCs.
REMOVES MOLD
Yes
The integrated True HEPA Filter is very effective at removing mold spores by 99.97% success.
TRAPS ALLERGENS
Yes
It traps allergens by 99.97% success using its effective True HEPA Filtration system hence making air in your indoor environment safe to breathe.
QUIET OPERATION
Yes
Once in low level setting, this unit will operate quietly letting you sleep peacefully or enjoy your private time without getting interrupted by noise.
WASHABLE PRE-FILTERS
Yes
Pre-filters should be cleaned once every 2 weeks in-order to achieve optimum air purification results.
EASY FILTER REPLACEMENT
Yes
Yes, it's very easy to replace the filters of this device in just 5-minutes.
AUTOMATICALLY DETECTS AIRBORNE PARTICLES
Yes
The Smart Sensors will always monitor air quality in your room and even various LED-lights will be displayed showing the air-quality within your room.
SLEEP MODE
Yes
Yes, it has a sleep mode which helps to save energy but the SmartSensor will always be alert in-order to purify air when necessary.
WATTAGE
Yes
The wattage changes as you increase motor or fan speed. For example at Speed-1 uses 14-watts, Speed-2 uses 34-watts, Speed-3 uses 70-watts, Speed-4 uses 128-watts.
ENERGY STAR
Yes
Yes it is energy star certified which makes it is a very economical appliance.
CONTROLS AND MODES
Yes
It has various control-modes which include; Auto Mode, Sleep Mode and Turbo Mode.
FILTER REPLACEMENT REMINDER
Yes
The filter replacement function will notify you when it is time to make filter replacement. However, the True HEPA filter is replaceable while the Pre-filter is permanent.
ECONOMICAL
Yes
It is Energy Star Certified whereby it can run for 7 days and 12 hours per day but with limited power consumption.
AFFORDABLE
Yes
Yes, it costs less than $200 which puts it among the best affordable air purifiers on the market.
IDEAL FOR ASTHMATIC PEOPLE
Yes
Yes, it is good for people with Asthma because it eliminates 99.97% of air pollutants such as allergens, dust, pollen, smoke and dust mites.
FILTER LIFE - BASED ON USE
Yes
You should change both the True HEPA filter & Carbon filter after 12 months (1 year). The filter replacement reminder will let you know.
OZONE FREE
Yes
It is Ozone free and does not emit any harmful gases when under operation.
DESIGN
Yes
It features a nice-looking, contemporary design that adds beauty and style to your bedroom, sitting-room, dining or office.
SIZE AND APPEARANCE
Yes
It features dimensions of 14.9in (W) x 7.8in (D) x 23.6in (H). Additionally, the controls are on top while air-vents are on the sides.
WEIGHT
Yes
This device weighs only 17.6-lbs which makes it very lightweight and portable enough to carry around your home.
WAS THIS REVIEW HELPFUL TO YOU? IF YES, PLEASE SHARE IT WITH A FRIEND.