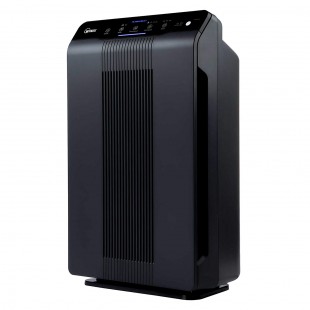 Reasons to buy Winix 6300 2:
Features a 4-Stage filtration system.
Covers room-spaces of up-to 400sq.ft.
Uses the best air cleaning technologies.
A remote-control for optimum convenience.
Check price here....
summary Review:
PERFORMANCE

Winix 6300 2

HEPA FILTER
TIMER
REMOVES CIGARETTE ODOR
ROOM SIZE AND AIRFLOW
FIGHTS GERMS
ELIMINATES DUST MITES
REMOVES PET DANDER
GETS RID OF POLLEN
REMOVES SMOKE
REMOVES MOLD
TRAPS ALLERGENS
QUIET OPERATION
WASHABLE PRE-FILTERS
EASY FILTER REPLACEMENT
AUTOMATICALLY DETECTS AIRBORNE PARTICLES
SLEEP MODE
WATTAGE
ENERGY STAR

USABILITY

Winix 6300 2

CONTROLS AND MODES
FILTER REPLACEMENT REMINDER
ECONOMICAL
AFFORDABLE
IDEAL FOR ASTHMATIC PEOPLE
REMOTE CONTROL
FILTER LIFE - BASED ON USE

SAFETY
APPEARANCE

Winix 6300 2

DESIGN
SIZE AND APPEARANCE
WEIGHT
HEPA FILTER
Yes
It has an Anti-microbial True HEPA Filter that captures 99.97% of airborne-pollutants to keep your home clean and fresh
TIMER
Yes
Includes a Timer-button that will allow you to set operation-time for either 1, 4 or 8 hours depending on your air-purification needs.
REMOVES CIGARETTE ODOR
Yes
It uses an Odor Reducing Carbon Sheet Filter to trap and eliminate different household-odors including; cigarette-odor and other chemical-pollutants.
ROOM SIZE AND AIRFLOW
Yes
It's designed for use in small-rooms of up-to 400Sq.Ft. It also features an airflow change-rate of 5-times per hour.
FIGHTS GERMS
Yes
Uses PlasmaWave-Technology and a True HEPA Filter to destroy germs, bacteria and other microbes.
ELIMINATES DUST MITES
Yes
This unit uses a True HEPA Filter to eliminate dust-mites while its FineMesh Pre-Filter helps trap large dust-particles.
REMOVES PET DANDER
Yes
Uses a True HEPA Filter to capture 99.99% of airborne-pollutants including; pet-dander in-order to help you live comfortably with pets.
GETS RID OF POLLEN
Yes
Its True HEPA Filter will help remove pollen and other airborne-particles at an efficiency-rate of 99.97% and down to 0.3-microns.
REMOVES SMOKE
Yes
Uses a Carbon Sheet Filter and PlasmaWave-Technology to eliminate cooking-smoke, cigarette-smoke and other household-odors.
REMOVES MOLD
Yes
It uses a True HEPA Filter and PlasmaWave-Technology to trap and destroy mold-spores at efficiency of 99.97% and down to 0.3-microns.
TRAPS ALLERGENS
Yes
Eliminates 99.97% of allergens and other airborne-pollutants using its Anti-microbial True HEPA Filter coupled with PlasmaWave-Technology.
QUIET OPERATION
Yes
It can be very silent when operating on the lowest speed-setting and also features a sleep-mode that ensures whisper-quiet operation with display lights off.
WASHABLE PRE-FILTERS
Yes
Features a Washable FineMesh Pre-Filter that must be washed after 3-months of use in-order to achieve great air-purification results.
EASY FILTER REPLACEMENT
Yes
Features easy to replace filters that can be accessed by removing the front-panel using simple tools.
AUTOMATICALLY DETECTS AIRBORNE PARTICLES
Yes
An Auto-mode works along with the SmartSensors to consistently monitor the air around and then automatically adjusts the fan-speeds so as to meet your environmental-needs
SLEEP MODE
Yes
It features a Sleep-mode that automatically lowers fan-speed and dims the control-panel display for quiet night time operation.
WATTAGE
Yes
It has a total maximum energy-consumption rate of 90-watts and the highest speed-setting and only 5-watts at the lowest speed-setting.
ENERGY STAR
Yes
Its Energy Star Certified since it uses 90-watts at the highest speed setting and only 5-watts when operating in sleep-mode thus making it very energy efficient.
CONTROLS AND MODES
Yes
It has a Display Control-panel located at top-section with several modes like; Auto, sleep, PlasmaWave, 4-Fan-speeds, Timer and multiple LED-indicators and SmartSensors.
FILTER REPLACEMENT REMINDER
Yes
Features a filter-change-indicator that will light-up to notify you that it's time to replace the true-HEPA-filter & Carbon Sheet Filter.
ECONOMICAL
Yes
It is energy-efficient and this means that it will save you a lot of money on electricity bills annually even when used on a daily basis.
AFFORDABLE
Yes
It's affordable yet equipped with great features in-order to provide you with optimum air-purification results.
IDEAL FOR ASTHMATIC PEOPLE
Yes
Uses an Anti-microbial True HEPA Filter & PlasmaWave-Technology to effectively eliminate 99.97% of allergens which are one of the main cause asthma.
REMOTE CONTROL
Yes
Comes with a remote-control that facilitates for convenient-operation within a 20-foot radius from the device.
FILTER LIFE - BASED ON USE
Yes
The True HEPA Filtrater must be replaced every 12-months while the Odor-Control-Carbon-Sheet-Filter must be replaced every 3-months & the FineMesh-Pre-Filter must be washed every 3-months.
OZONE FREE
Yes
It's ozone-free because it uses PlasmaWave-Technology to neutralize airborne-pollutants without producing harmful ozone.
DESIGN
Yes
It has a modern but conventional design featuring a tower-shaped structure with a dispaly-control-panel at the top-section, a bottom-stand and air-vents on sides and front.
SIZE AND APPEARANCE
Yes
Features dimensions of; 14.9"L x 7.8"W x 23.6"H which makes it very portable. It also has a nice-looking, tower-shaped-body made from durable ABS-plastic.
WEIGHT
Yes
7 kg/15.4-lbs which makes it lightweight and easy to move from one room to another.
WAS THIS REVIEW HELPFUL TO YOU? IF YES, PLEASE SHARE IT WITH A FRIEND.