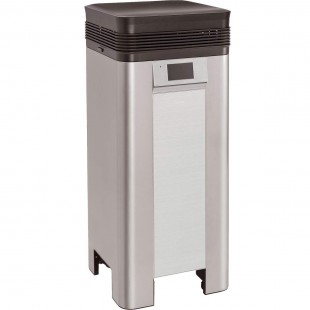 Reasons to buy Winix T1 Professional:
Is a 6-stage cleaning system with multiple filters
Up to 4 air changes per hour
Large room coverage – 1000 square feet
Full color LCD air quality indicator
Check price here....
summary Review:
PERFORMANCE

Winix T1 Professional

HEPA FILTER
TIMER
FOR LARGE ROOMS
REMOVES CIGARETTE ODOR
ROOM SIZE AND AIRFLOW
FIGHTS GERMS
ELIMINATES DUST MITES
REMOVES PET DANDER
GETS RID OF POLLEN
REMOVES SMOKE
REMOVES MOLD
TRAPS ALLERGENS
QUIET OPERATION
WASHABLE PRE-FILTERS
EASY FILTER REPLACEMENT
AUTOMATICALLY DETECTS AIRBORNE PARTICLES
SLEEP MODE
WATTAGE
ENERGY STAR

USABILITY

Winix T1 Professional

CONTROLS AND MODES
FILTER REPLACEMENT REMINDER
ECONOMICAL
IDEAL FOR ASTHMATIC PEOPLE
REMOTE CONTROL
FILTER LIFE - BASED ON USE

SAFETY
APPEARANCE

Winix T1 Professional

DESIGN
SIZE AND APPEARANCE
WEIGHT
HEPA FILTER
Yes
Has a heavy duty True hepa filter – has been independently certified and proven to remove 99.97% of allergens, bacteria and VOCs to the size of 0.3 microns in size.
TIMER
Yes
Timer can be scheduled – switches off air purifier after a particular period of up to 12 hours.
FOR LARGE ROOMS
Yes
Room coverage is 1000 square feet. Ideal for large rooms within that range. Recommended to clean large spaces, offices, schools, other rooms etc
REMOVES CIGARETTE ODOR
Yes
Uses AOC carbon filter to remove cigarette odor. Chemically absorbs all kinds of odor from cigarettes, cooking, pets, human perfumes etc
ROOM SIZE AND AIRFLOW
Yes
Covers a room size of 1000 square feet. Practically room sizes within that range can be cleaned. Extends to clean kitchen and other rooms.
FIGHTS GERMS
Yes
Fights germs using patented Plasmawave system – neutralizes germs from the indoor air that cause health issues.
ELIMINATES DUST MITES
Yes
Removes all dust mites – they usually hide in mattresses, cushions, comforters and carpets.
REMOVES PET DANDER
Yes
Removes pet dander – usually tinny skin particles shed from pets. Creates harmonious living with pets.
GETS RID OF POLLEN
Yes
Identifies and gets rid of pollen. Filters air to gather all pollen that can cause health risks like trigger allergies.
REMOVES SMOKE
Yes
Removes smoke easily. Activates carbon contaminants to remove smoke through chemical absorption.
REMOVES MOLD
Yes
Removes fungal mold from living space. Environments with mold lead to health complications like : cough, stuffed nose and skin irritation
TRAPS ALLERGENS
Yes
Combination of 6 filtration system like True Hepa filtration traps allergens. Allergen when breathed in leads to allergic reaction.
QUIET OPERATION
Yes
Operates powerfully but relatively quiet. Its noise level is 34 db on the lowest speed. Highest fan speed is 55 db.
WASHABLE PRE-FILTERS
Yes
Can be washed – it gathers dead skin and hair from the hair. Should be washed to prevent clogged and ineffectiveness.
EASY FILTER REPLACEMENT
Yes
Filter replacement is simple – make sure it is powered off before you pull out the filter for replacement.
AUTOMATICALLY DETECTS AIRBORNE PARTICLES
Yes
Smart air quality detects quality of indoor air. Provides superior clean by automatically adjusting speed to suit quality of air.
SLEEP MODE
Yes
Activate sleep mode at night. It dims the light in the room as it purifies the air.
WATTAGE
Yes
On low speed, it uses 10 wattage and 200 watts on high speed. Save energy by running it on low speed often.
ENERGY STAR
Yes
Has been energy start certified for low power usage. Saves you from heavy energy bills even when used full time.
CONTROLS AND MODES
Yes
Controls like language settings, volume and brightness. Comes with Sleep mode
FILTER REPLACEMENT REMINDER
Yes
Change filter indicator – turns on to remind you to change your filter.
ECONOMICAL
Yes
Economical on the low speed settings – its smart sensor will place device on sleep mode to save energy.
IDEAL FOR ASTHMATIC PEOPLE
Yes
Mixture of filtration stage is ideal for asthmatic people. Asthmatic attacks will be no more.
REMOTE CONTROL
Yes
Built with wifi connectivity and WinixSmart app. Assists monitor and control air quality remotely.
FILTER LIFE - BASED ON USE
Yes
Replaced once the bar is empty depending on usage
CHILD LOCK
Yes
Features a child lock – prevents children from making changes to Winix T1
OZONE FREE
Yes
Built with various modes and controls that determine its effectiveness. Sleep mode releases zero particle emission and is ozone free.
DESIGN
Yes
Premium and compact design – won't require much space for storage
SIZE AND APPEARANCE
Yes
17 x 17 x 39.8 inches
WAS THIS REVIEW HELPFUL TO YOU? IF YES, PLEASE SHARE IT WITH A FRIEND.