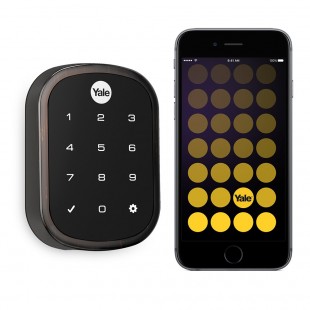 Reasons to buy Yale Assure Lock SL:
Easy to install
Emergency power back-up
It automatically locks its self
Unlock and lock the door using the backlit touchscreen keypad
Check price here....
summary Review:
PERFORMANCE

Yale Assure Lock SL

REMOTELY CONTROLLED
AUTO-LOCK
AUTO-UNLOCK
WIRELESS SMART LOCK
TRACKS ACTIVITY AT YOUR DOORSTEP

USABILITY

Yale Assure Lock SL

EASY INSTALLATION
WORKS WITH ALEXA
CONTROL ACCESS
USER FRIENDLY
BATTERY LIFE

SAFETY

Yale Assure Lock SL

PIN CODES ACCESS
DATA ENCRYPTION
RANDOM SECURITY CODE
INTRUSION ALARM
ANTI THEFT ALARM
MISCHIEF PREVENTION

DESIGN

Yale Assure Lock SL

DURABLE
LED KEYPAD
LOW BATTERY WARNING
EMERGENCY POWER OPTION
DIGITAL TOUCHSCREEN
REMOTELY CONTROLLED
Yes
You can remotely lock and unlock doors by asking Siri installed on your iPhone, iPad or Apple Watch. Additionally, you can even use the Apple home app or Yale Secure app to remotely-control this device
AUTO-LOCK
Yes
Auto-lock function enables the unit to auto-relock the door in-case you forget to lock it.Also the one-touch locking feature automatically locks the door behind you after tapping on the keypad with 3-fingers.
AUTO-UNLOCK
Yes
Uses Apple Home-App or Yale Secure-App to automatically unlock doors from anywhere using an Apple-device. Additionally, you can even ask Siri to automatically unlock the door or check the on the current lock status.
WIRELESS SMART LOCK
Yes
Can be wirelessly locked and unlocked after setting your Apple-TV (4th gen or later) or an iPad with iOS 10.3 or later as a home-hub.
TRACKS ACTIVITY AT YOUR DOORSTEP
Yes
Uses a Yale secure app to provide you with notifications when someone accesses your home and also provides you with history of who really accessed your home.
EASY INSTALLATION
Yes
Is very easy to install. Additionally, this unit will fit on all standard-doors with a thickness of 1-3/4" to 2-1/4".
WORKS WITH ALEXA
Yes
Is Alexa-compatible in-order to facilitate for easy voice-control while at home. However, the Amazon-Alexa kit is sold separately and it's not provided by Yale
KEEP YOUR EXISTING LOCK AND KEYS
CONTROL ACCESS
Yes
Can be easily controlled by accessing the backlit touchscreen keypad which requires a 4-to-8 digit pin code. But, you can use the Yale Secure app on your iPhone to manage this device.
USER FRIENDLY
Yes
It is very user-friendly because it features an easy-to-use touchscreen keypad, a one-touch locking feature, voice-control and a 9V battery backup
COMPATIBLE WITH COMMON TYPES OF CYLINDERS
ATTACHES TO YOUR EXISTING DEADBOLT
ATTACHES TO YOUR EXISTING KEYS
BATTERY LIFE
Yes
Uses 4 AA alkaline-batteries to provide long-lasting performance of up-to 12-months.
PIN CODES ACCESS
Yes
You can lock and unlock this device using a backlit touchscreen keypad that requires a 4-to-8 digit pin code.
DATA ENCRYPTION
Yes
Data transferred between this device and your Smartphone is actually encrypted in-order to ensure optimum security.
RANDOM SECURITY CODE
Yes
Uses a Yale Secure app to create and manage up to 25 unique and random pin-codes that can be shared with friends and family. Additionally, you can easily delete any random pin-codes if you want to.
INTRUSION ALARM
Yes
Features an audible alarm that makes a loud a sound if someone is attempting to forcibly remove the outside lock from door. This temper-alert will even send you a notification on your Smartphone via the Yale Secure app in-case you're not at home.
ANTI THEFT ALARM
Yes
Uses a temper-alert to notify you via the Yale Secure app on your Smartphone if anyone is attempting to forcibly enter your house.
MISCHIEF PREVENTION
Yes
Will automatically shut-down if someone tries to enter the wrong pin-code for 5-times.
DURABLE
Yes
Has a durable Backlit Touchscreen Keypad and a fully motorized, tapered deadbolt that can accommodate any misaligned doors.
LED KEYPAD
Yes
Backlit touchscreen keypad that uses a 4-to-8 digit pin-code to unlock the door. This LED-keypad also features a "settings" function that allows you to setup your smart-device.
LOW BATTERY WARNING
Yes
When battery-power is low, the low battery warning indicator will flash red so as to let you you know that it's time to replace the batteries.
EMERGENCY POWER OPTION
Yes
Has a 9V terminal under the keypad for emergency charging. This implies that you don't have to worry about getting locked-out due to dead-batteries.
DIGITAL TOUCHSCREEN
Yes
Is equipped with a digital, backlit touch screen keypad that uses 4-to-8 digit pin codes.
WAS THIS REVIEW HELPFUL TO YOU? IF YES, PLEASE SHARE IT WITH A FRIEND.