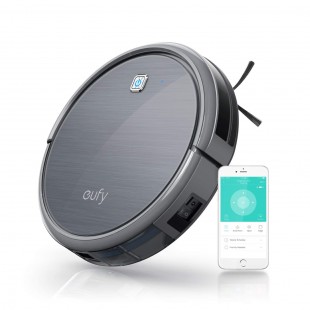 Reasons to buy eufy BoostIQ RoboVac 11c:
Voice command through Amazon Alexa
High traction wheels
100 minutes run time
Includes boundary stripes
Check price here....
summary Review:
PERFORMANCE

eufy BoostIQ RoboVac 11c

CLEANS UNDER FURNITURE
COVERAGE
SUCTION POWER
IDEAL FOR HOMES WITH PETS
CLEAN CORNERS AND ALONG WALLS
BATTERY LIFE
CHARGE TIME
MULTI-FLOOR CLEANING
FOR LARGE ROOMS
AUTO DOCKS AND RECHARGE
MULTI-ROOM NAVIGATION
AVOIDS STAIRS AND OBJECTS
QUIET OPERATION
BOOSTS SUCTION POWER
HEPA FILTER
CONCENTRATED CLEANING

USABILITY

eufy BoostIQ RoboVac 11c

HASSLE FREE OPERATION
REMOTE CONTROL WITH MOBILE APP
WIFI CONNECTED
CAN BE SCHEDULED
WORKS WITH ALEXA
ZONE CLEANING

DESIGN

eufy BoostIQ RoboVac 11c

LARGE DEBRIS BIN
LOW PROFILE DESIGN
BOUNDARY STRIPS INCLUDED
BATTERY CAPACITY
DUST BIN CAPACITY
VIRTUAL WALL INCLUDED
PRODUCT DIMENSIONS
WEIGHT

CONCLUSION
CLEANS UNDER FURNITURE
Yes
Measures 3.4 inches tall – makes it flexible enough to clean under furniture above 3.4 inches and not able to clean under furniture above 3.4 inches tall
SUCTION POWER
Yes
1200 Pa – powerful suction power that will effectively clean all floor types, tiles and low pile carpets
IDEAL FOR HOMES WITH PETS
Yes
Features an extra suction power and deep cleaning modes that endeavour to capture all pet hairs in the home
CLEAN CORNERS AND ALONG WALLS
Yes
Counter rotating side brushes – will reach the corners and along the walls to remove every debris, pet hairs and dust particles thoroughly
BATTERY LIFE
Yes
100 minutes of run time – might not be the best but it's enough to clean a small and medium sized room. For large rooms it is automatically dock and recharge then continue cleaning on command
CHARGE TIME
Yes
300 minutes – takes long to fully charge
MULTI-FLOOR CLEANING
Yes
Suitable for floor types like vinyl, tile, linoleum and hard wood. Makes use of the upgraded large wheels to climb over thresholds like low pile and medium pile carpets
DEEP CLEANS THICK CARPETS
FOR LARGE ROOMS
Yes
Yes, it has a 100 minutes run time which can clean large rooms. however the robot might dock and recharge during cleaning
AUTO DOCKS AND RECHARGE
Yes
Automatically docks and recharges after 100 minutes of cleaning time.
RESUMES AFTER AUTO RECHARGING
MULTI-ROOM NAVIGATION
Yes
eufy RoboVac 11c will navigate randomly from room to room. Uses the advanced sensors to avoid objects on its way and stairs
AVOIDS STAIRS AND OBJECTS
Yes
Features a complete set of obstacle and anti drop sensors. The infrared sensor found at the front will detect obstacles like walls and furniture while the drop sensors at the bottom will avoid stairs
BOOSTS SUCTION POWER
Yes
Boosts power through the max cleaning mode – works at full suction power to effectively clean carpets
HEPA FILTER
Yes
Makes use of a triple filtration system – a hepa filter and 2 ordinary filtration systems. Endeavours that all pet furs and hair strands get picked. Suitable for people with respiratory problems or allergies
CONCENTRATED CLEANING
Yes
Uses spot cleaning to move in a spiral pattern around a particular area. Perfect for areas concentrated with dirt like liquid spills and other debris
HASSLE FREE OPERATION
Yes
Can be operated using remote app control, Amazon Alexa and wifi connectivity. It also auto docks and recharges once battery is low. You won't need to be around all the time
REMOTE CONTROL WITH MOBILE APP
Yes
Install the remote app control to your smart phone. Lets you monitor and control robot from anywhere
WIFI CONNECTED
Yes
Lets you sync the robot with home wifi
CAN BE SCHEDULED
Yes
Connect it to home wifi and then download the app and create user account – this app lets you select cleaning mode to weekly schedule of specific times and days
WORKS WITH ALEXA
Yes
Voice control this eufy RoboVac 11c using the Amazon Alexa
ZONE CLEANING
Yes
Features a single room cleaning mode – makes use of boundary stripes to clean specific areas or you can close the door and it cleans only that room
LOW PROFILE DESIGN
Yes
3.4 inches above the ground low profile design
BOUNDARY STRIPS INCLUDED
Yes
Has boundary strips – place the stripes on the floors and it prevents eufy RoboVac 11c from accessing areas that have been restricted by you.
VIRTUAL WALL INCLUDED
Yes
Contains edge cleaning mode – robot detects walls a distance away and reduces speed
PROS
Yes
• Voice command through Amazon Alexa • Weekly cleaning schedule • 100 minutes run time • Includes boundary stripes • Remote control with smart phone • Auto mode – changes cleaning mode according to surface and area • Power boostIQ function • High traction wheels • Automatic dock and recharging • Multi floor cleaning
CONS
Yes
• No auto resume after recharge • Cant clean deep pile carpets
WAS THIS REVIEW HELPFUL TO YOU? IF YES, PLEASE SHARE IT WITH A FRIEND.