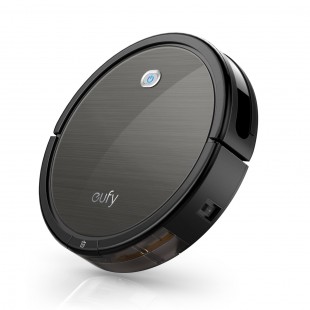 Reasons to buy eufy RoboVac 11 Plus:
Operates quietly
Ideal for hard floors and medium pile carpets
High suction power with a power boost technology
Low profile design - it will reach all hard to clean areas
See price on Amazon
summary Review:
PERFORMANCE

eufy RoboVac 11 Plus

CLEANS UNDER FURNITURE
COVERAGE
SUCTION POWER
IDEAL FOR HOMES WITH PETS
CLEAN CORNERS AND ALONG WALLS
BATTERY LIFE
CHARGE TIME
MULTI-FLOOR CLEANING
AUTO DOCKS AND RECHARGE
MULTI-ROOM NAVIGATION
AVOIDS STAIRS AND OBJECTS
QUIET OPERATION
BOOSTS SUCTION POWER
HEPA FILTER

USABILITY

eufy RoboVac 11 Plus

HASSLE FREE OPERATION
CAN BE SCHEDULED

DESIGN

eufy RoboVac 11 Plus

LARGE DEBRIS BIN
LOW PROFILE DESIGN
BATTERY CAPACITY
DUST BIN CAPACITY
PRODUCT DIMENSIONS
WEIGHT

CONCLUSION
CLEANS UNDER FURNITURE
Yes
With a height of 7.8 cm, this robot can clean under most furniture in your room.
COVERAGE
Yes
1184 sq.ft – Ideal for small – medium rooms
SUCTION POWER
Yes
1000 Pa / 28Watts – not too strong but it can still do a great job.
IDEAL FOR HOMES WITH PETS
Yes
Can pick up pet hair from medium pile carpets and hard floors. If shaded pet hair is too much, you can opt for the Power Boost Technology, this will automatically increase RoboVac's suction power.
CLEAN CORNERS AND ALONG WALLS
Yes
The 2 non tangle side brushes can reach corners and wall edges - remove pet hair and dust that hides in such areas.
BATTERY LIFE
Yes
100 minutes of run time – better than most robots.
CHARGE TIME
Yes
300 minutes of charge time
MULTI-FLOOR CLEANING
Yes
Able to clean both hard floors and medium pile carpets. When it gets to areas with a high concentration of dirt or pet hair, it will boost its suction power to ensure you get perfect results
DEEP CLEANS THICK CARPETS
AUTO DOCKS AND RECHARGE
Yes
It automatically returns to the charging base when the battery runs low. Its runtime when the batter is full is 100 minutes. Once it gets charged full, it will be ready for next usage.
RESUMES AFTER AUTO RECHARGING
MULTI-ROOM NAVIGATION
Yes
Can clean from room to room but it won't draw a floor map to guide it. So it will move randomly.
AVOIDS STAIRS AND OBJECTS
Yes
With the Drop sensing technology, RoboVac will never fall off a cliff or stairs. It does not require your attention when vacuuming your apartment.
QUIET OPERATION
Yes
59 db – Operates quietly. You won't get any interruption. Focus more on things that makes sense to you, other than cleaning your house.
BOOSTS SUCTION POWER
Yes
Features a Power Boost Technology which increases suction power of the robot when it is needed.
HEPA FILTER
Yes
The High Efficiency Filter will remove 99% of allergens, dust, pollen and pet hair released in air when the vacuum is cleaning. This will leave you with both clean floors and air.
HASSLE FREE OPERATION
Yes
Can be controlled and scheduled with a remote control device.
REMOTE CONTROL WITH MOBILE APP
CAN BE SCHEDULED
Yes
Using a remote control, create a cleaning schedule for days you will not be at home. The robot will remember those days, dock off its self from the charging station, clean the house and take back its self on the charging station.
LARGE DEBRIS BIN
Yes
Features a large dustbin that can accommodate lots of dirt. So you won't do too much emptying of the bin.
LOW PROFILE DESIGN
Yes
7.8 cm in height – with its low profile design; it can get to areas other robots can't get to.
BATTERY CAPACITY
Yes
2000 mAh - This is a powerful battery
PROS
Yes
• Low profile design • Operates quietly • Large dustbin – you don't have to empty the bin so often. • Cleans wall edges and corners very well • Can be controlled with a remote control • Power Boost Technology • HEP Filter removes 99% of air pollutants • Affordable • Can be scheduled
CONS
Yes
• Does not have a virtual wall • Does not map or route its movements • Low battery run-time • Does not wet mop • Does not support Alexa • Not Wifi Enabled • No Smartphone App
WAS THIS REVIEW HELPFUL TO YOU? IF YES, PLEASE SHARE IT WITH A FRIEND.