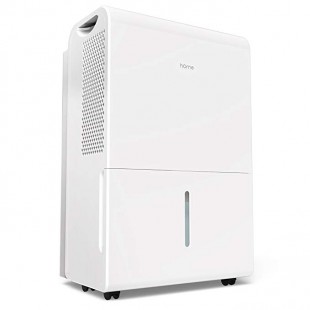 Reasons to buy hOmeLabs 50 Pint:
Dehumidifier for Large Rooms - 3,000 Sq. Ft
Efficiently Removes Moisture to Prevent Mold
Ideal for Basements
Energy Star Dehumidifier
Check price here....
summary Review:
PERFORMANCE

hOmeLabs 50 Pint

DEHUMIDIFICATION PINT PER DAY
ROOM COVERAGE
FULL WATER TANK ALERT
ELIMINATES BACTERIA
PROTECTS HOME FROM MILDEW & BACTERIA
IDEAL FOR BASEMENT
IDEAL FOR BEDROOM
IDEAL FOR ENCLOSED SPACES
BUILT-IN WATER PUMP
EFFORTLESS HUMIDITY CONTROL
MOSITURE REMOVAL ''GALLONS''
FAN SPEED
FEATURES & SPECS

USABILITY

hOmeLabs 50 Pint

TURBO MODE
EASY TO MOVE FROM PLACE TO PLACE
EASY TO EMPTY
EASY TO CONTROL
AUTO RE-START
AUTO SHUT OFF
FULL WATER TANK INDICATOR
REMOVABLE WATER TANK

DESIGN

hOmeLabs 50 Pint

WATER TANK CAPACITY
WASHABLE FILTERS
AVAILABLE SETTINGS
PORTABLE DESIGN
SPACE SAVING DESIGN
EMITS HEAT WHEN IN USE
ENERGY STAR RATING
MECHANICAL / ELECTRONIC CONTROLS
POWER CORD LENGTH
DIMENSIONS
WEIGHT
Amps

CONCLUSION
DEHUMIDIFICATION PINT PER DAY
Yes
Eliminates up to 50 pint per day of excessive moisture. Has a normal air CFM range of 165 to turbo of 188.
ROOM COVERAGE
Yes
Suitable for large rooms within 3000 square feet. Dehumidifies perfectly without missing a spot.
FULL WATER TANK ALERT
Yes
Alerts when the water tank is almost full. If not emptied, it automatically shuts off.
ELIMINATES BACTERIA
Yes
Removes bacteria in rooms that make breathing complicated
PROTECTS HOME FROM MILDEW & BACTERIA
Yes
Removes humidity out of every indoor room. Protects home goods, cloths and furniture from mold, mildew, bacteria and moisture rot.
IDEAL FOR BASEMENT
Yes
Ideal for basements within 1500 and 3000 square feet with room temperature range of 41F to 95 F.
IDEAL FOR BEDROOM
Yes
Has a quiet fan suitable for bedrooms. Renders a restful sleep as it dehumidifies.
IDEAL FOR ENCLOSED SPACES
Yes
Effective in enclosed spaces such as basement, large rooms and cellar room.
BUILT-IN WATER PUMP
Yes
Built in pump compressor
EFFORTLESS HUMIDITY CONTROL
Yes
Effortlessly adjust to humidity levels comfortable for you from 35% to 85%. Switch off the continuous mode and use left/right buttons to control humidity levels.
MOSITURE REMOVAL ''GALLONS''
Yes
Eliminates approximately up to 6 gallons. Or 50 pints in terms of beer measurements of moisture in a day.
ANTI-BACTERIAL MESH FILTER
FEATURES & SPECS
Yes
Built with 6 multiple settings, touch panel controls, 24 hour timer, automatic shut off, turbo mode, defrost mode and automatic restart function.
TURBO MODE
Yes
Features Turbo mode – raises the fan speed from normal Air CFM 165 up to high CFM 188. Thus provides maximum moisture elimination and room odor reduction
EASY TO MOVE FROM PLACE TO PLACE
Yes
Built with wheels and handles for easy movement. Simple to carry or roll from place to place.
EASY TO EMPTY
Yes
Continuous drain option makes it easy to empty. Attach drain hose to the internal threaded end. You can also remove the water tank and empty effortlessly.
EASY TO CONTROL
Yes
Easy to control through touch panel unit. Just touch on settings to make changes.
AUTO RE-START
Yes
Automatic restart function – starts automatically after a power outage and continued dehumidification
AUTO SHUT OFF
Yes
Operates for 24 hours nonstop and only shuts down automatically when the tank is full.
FULL WATER TANK INDICATOR
Yes
Indicates when water tank is about to become filled.
REMOVABLE WATER TANK
Yes
Can be manually removed. Switch off the device once tank is full and remove water tank and empty bucket.
WATER TANK CAPACITY
Yes
6 liters of water tank capacity – takes in more water before requiring to be emptied.
WASHABLE FILTERS
Yes
Clean filters with clean water and mild detergent. Wash filters once every month and let it dry and insert it back.
AVAILABLE SETTINGS
Yes
Features turbo mode, defrost mode, adjustable humidity level and continuous mode.
PORTABLE DESIGN
Yes
Portable design through wheels and built in handles. Effortless to move it within the home or to another place.
SPACE SAVING DESIGN
Yes
Compact and sleek design – stands upright and consumes less space in rooms.
EMITS HEAT WHEN IN USE
Yes
When absorbing moisture, this device will emit heat when in use.
ENERGY STAR RATING
Yes
Is energy star certified – absorbs moisture quickly while saving your energy bills even when used 24/7
MECHANICAL / ELECTRONIC CONTROLS
Yes
Electronic touch control system
POWER CORD LENGTH
Yes
6 feet cord length – no need for an extension cord
DIMENSIONS
Yes
15.4 x 11 x 24.3 inches
PROS
Yes
• Easy to move from place to place using wheels and handles • 24 hour continuous dehumidification • Has a custom humidity level between 35% to 85% • Ideal for large rooms between 1500 – 3000 square feet • Eliminates bacteria and bad odor • Protects homes from mildew and mold • Removes up to 50 pints of moisture from air per day • Energy star certified to save energy • Increases fan speed through Turbo mode • Built-in pump compressor
CONS
Yes
• Emits hot heat when in operation
WAS THIS REVIEW HELPFUL TO YOU? IF YES, PLEASE SHARE IT WITH A FRIEND.