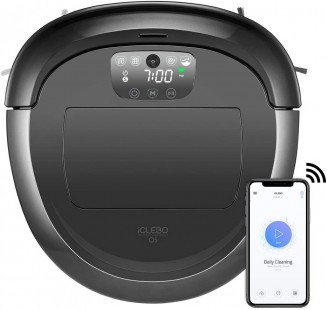 Reasons to buy iClebo O5 Robot Vacuum:
Easy to use and convenient.
Automatic fall protection.
Super suction power.
Hands free operation.
Check price here....
summary Review:
PERFORMANCE

iClebo O5 Robot Vacuum

CLEANS UNDER FURNITURE
COVERAGE
SUCTION POWER
IDEAL FOR HOMES WITH PETS
CLEAN CORNERS AND ALONG WALLS
BATTERY LIFE
CHARGE TIME
MULTI-FLOOR CLEANING
DEEP CLEANS THICK CARPETS
FOR LARGE ROOMS
AUTO DOCKS AND RECHARGE
RESUMES AFTER AUTO RECHARGING
MULTI-ROOM NAVIGATION
AVOIDS STAIRS AND OBJECTS
QUIET OPERATION
BOOSTS SUCTION POWER
HEPA FILTER
MAPS & PLANS ROUTE
SWEEPS AND MOPS
CONCENTRATED CLEANING

USABILITY

iClebo O5 Robot Vacuum

WIFI CONNECTED
CAN BE SCHEDULED
WORKS WITH ALEXA
ZONE CLEANING

DESIGN

iClebo O5 Robot Vacuum

LARGE DEBRIS BIN
LOW PROFILE DESIGN
BOUNDARY STRIPS INCLUDED
BATTERY CAPACITY
DUST BIN CAPACITY
VIRTUAL WALL INCLUDED
PRODUCT DIMENSIONS
WEIGHT

CONCLUSION
CLEANS UNDER FURNITURE
Yes
With only 3.5 inches tall, this unit is able to get under and clean under sofas, tables, beds and any other furniture in the house.
COVERAGE
Yes
Device has a smart-Sense Navigation which assesses a wide coverage.
SUCTION POWER
Yes
Device has a powerful suction and multi surface brush roll which makes it ideal for picking up dust and debris from the floors and carpets.
IDEAL FOR HOMES WITH PETS
Yes
A multi surface brush roll combines with the good suction and a high-efficiency filter to give you an amazing solution for homes with pets.
CLEAN CORNERS AND ALONG WALLS
Yes
This device has double spinning side brushes which pull in debris from corners and edges.
BATTERY LIFE
Yes
This unit's battery life is excellent as it can run for 1 hour.
CHARGE TIME
Yes
It takes three hours to charge the battery.
MULTI-FLOOR CLEANING
Yes
A spinning, multi-surface brush roll takes on carpets while powerful suction and dual spinning side brushes pick up debris from hard floors, edges, and corners.
DEEP CLEANS THICK CARPETS
Yes
Device has a spinning, multi-surface brush roll which does a tremendous job of taking on debris deep in carpets.
FOR LARGE ROOMS
Yes
Its ability to run for 60 minutes without shutting down makes it ideal for large rooms.
AUTO DOCKS AND RECHARGE
Yes
Device is able to auto dock and recharge when it runs out of battery.
RESUMES AFTER AUTO RECHARGING
Yes
This robot is able to recharge and resume where it stopped to complete the thorough cleaning.
MULTI-ROOM NAVIGATION
Yes
This device is able to navigate from room to room.
AVOIDS STAIRS AND OBJECTS
Yes
This robotic vacuum is able to avoid stairs and objects.
QUIET OPERATION
Yes
This device is quiet enough making it possible to work or do something else while it's cleaning.
BOOSTS SUCTION POWER
Yes
The suction power can be adjusted through 3-levels, with level 1 offering the quietest cleaning experience, useful during night cleaning
HEPA FILTER
Yes
This device has a high efficiency heap filter that is ideal for picking up dust and other airborne particles.
MAPS & PLANS ROUTE
Yes
Wide-angle smart mapping systems thoroughly analyze space and cleans with vision-mapping camera shooting 20 frames per second drawing a map of the total required cleaning area.
SWEEPS AND MOPS
Yes
Device has two brushes that sweep dirt into the vacuum however it may not be able mop as required.
CONCENTRATED CLEANING
Yes
Has a max mode for concentrated cleaning which increases the suction power to deal with messes.
REMOTE CONTROL WITH MOBILE APP
WIFI CONNECTED
Yes
Our best product yet, the improved Omega comes equipped with WiFi capabilities allowing you to remotely clean your home or office from anywhere at any time.
CAN BE SCHEDULED
Yes
Customize & save the style and pattern of cleaning in your home or business and view it in real time using the Smart App Editor installed on any smart device
WORKS WITH ALEXA
Yes
Compatible with Alexa & Google Assistant Apps, the iClebo O5 features voice service skill which will announce the status and condition of your robot
ZONE CLEANING
Yes
The O5 Keeps getting smarter as you go. With the O5 app, you can clean anywhere with Map editor function used right from your smartphone or device and save settings for set & forget cleaning.
LARGE DEBRIS BIN
Yes
Device has a large bin with a holding capacity of over 30 days cleaning sessions.
LOW PROFILE DESIGN
Yes
This robot's thin design allows it to easily coast below furniture to provide thorough clean throughout your home.
BOUNDARY STRIPS INCLUDED
Yes
Device has an 8' BotBoundary strip to enable it to avoid obstacles and ledges.
BATTERY CAPACITY
Yes
The robot vacuum has a Li-ion 2600 mAh battery with an expected runtime of 60 minutes.
DUST BIN CAPACITY
Yes
Dustbin capacity is 0.7 quartz.
VIRTUAL WALL INCLUDED
Yes
Real-time Map Editor helps you protect investments and maximize efficiency by creating non-cleaning zones to prevent the robot from vacuuming areas off-limit.
PRODUCT DIMENSIONS
Yes
13.9 x 13.6 x 3.4 inches
PROS
Yes
Smart sensor navigation 2.0. Powerful suction. Designed for homes with pets. High efficiency motor. Ultra-lightweight. One-touch debris emptying. Versatile cleaning attachments.
CONS
Yes
Does not have an auto empty base. Does not do home mapping and room select. Has no full bin indicator.
WAS THIS REVIEW HELPFUL TO YOU? IF YES, PLEASE SHARE IT WITH A FRIEND.