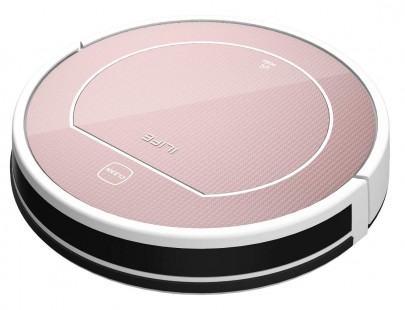 Reasons to buy iLIFE V7S Plus:
Automatic self recharge.
Dual filter dustbin & large water-tank.
Anti-collision & drop-avoidance IR-sensors.
4-cleaning-modes: Auto, Border, concentration & Reservation.
See price on Amazon
summary Review:
PERFORMANCE

iLIFE V7S Plus

CLEANS UNDER FURNITURE
COVERAGE
SUCTION POWER
IDEAL FOR HOMES WITH PETS
CLEAN CORNERS AND ALONG WALLS
BATTERY LIFE
CHARGE TIME
MULTI-FLOOR CLEANING
AUTO DOCKS AND RECHARGE
MULTI-ROOM NAVIGATION
AVOIDS STAIRS AND OBJECTS
QUIET OPERATION
HEPA FILTER
SWEEPS AND MOPS
CONCENTRATED CLEANING

USABILITY

iLIFE V7S Plus

HASSLE FREE OPERATION
CAN BE SCHEDULED

DESIGN

iLIFE V7S Plus

LARGE DEBRIS BIN
LOW PROFILE DESIGN
BATTERY CAPACITY
DUST BIN CAPACITY
FULL BIN INDICATOR
PRODUCT DIMENSIONS
WEIGHT

CONCLUSION
CLEANS UNDER FURNITURE
Yes
Has a low-profile design with a height of only 3.31-inches which makes it capable of cleaning under furniture above 3.4-inches.
COVERAGE
Yes
Cleans small-to-medium sized rooms of up-to 2100sq.ft.
SUCTION POWER
Yes
It has a moderate suction-power of 400Pa.
IDEAL FOR HOMES WITH PETS
Yes
It can to pick-up fur and dirt. It also has a HEPA-Filter that eliminates dust and pet allergies.
CLEAN CORNERS AND ALONG WALLS
Yes
The border-cleaning-mode uses a side-brush to sweep all dirt from corners and wall-edges.
BATTERY LIFE
Yes
Features a 2600-mAh Li-battery that operates for about 140-minutes after a full charge.
CHARGE TIME
Yes
It can get fully-charged in about 300-minutes.
MULTI-FLOOR CLEANING
Yes
Features 2 big-wheels capable of climbing and slopping different obstacles hence enabling it to clean different floor-types easily.
DEEP CLEANS THICK CARPETS
AUTO DOCKS AND RECHARGE
Yes
Automatically returns to the charging-dock when battery-power is about to run-out.
RESUMES AFTER AUTO RECHARGING
MULTI-ROOM NAVIGATION
Yes
This unit can cleanup multiple rooms using a random navigation pattern.
AVOIDS STAIRS AND OBJECTS
Yes
Features 11 IR-Sensors that help to avoid bumping into furniture and falling off stairs.
QUIET OPERATION
Yes
Its noise-level is less than 60dBs and this actually allows it to operate quietly.
HEPA FILTER
Yes
The included HEPA-Filter on the dustbin helps to remove up to 99.97% of airborne-pollutants.
SWEEPS AND MOPS
Yes
It uses advanced i-dropping technology to make mopping more efficient and reliable. In fact, this device can vacuum, sweep and damp-mop hard-floors
CONCENTRATED CLEANING
Yes
Features a concentrated-clean-mode that focuses on deep-cleaning a specific spot until it gets thoroughly clean.
HASSLE FREE OPERATION
Yes
There is an AUTO-CLEAN Button on this robot that can be simply pressed or you can use the included remote-control to select moving directions and modes.
REMOTE CONTROL WITH MOBILE APP
CAN BE SCHEDULED
Yes
Features a Schedule-cleaning-mode that allows you to set the time you want it to operate automatically. In fact, this allows for auto-cleaning of your house whether you're at home or not.
LARGE DEBRIS BIN
Yes
Has a large 600ml dry dirt bin which implies that in can cover a large-area without having to empty the bin.
LOW PROFILE DESIGN
Yes
Its low-profile design with a height of 3.31" allows it clean under furniture above 3.31-inches from the ground.
FULL BIN INDICATOR
Yes
Uses smart dustbin detection technology to alert you when the dustbin isn't installed and when it's full.
PRODUCT DIMENSIONS
Yes
13.39"L x 3.31"H x 13.39"D
PROS
Yes
• Scheduling function. • Quiet operation under 60dBs. • A large 600ml dry dirt tank. • A large 450ml water storage tank. • An OBS all terrain detection system. • A high-efficiency filtration system. • Self-recharging & intelligent location. • Dual functionality of mopping and vacuuming.
CONS
Yes
• No virtual wall Barriers. • Amazon Alexa Not Supported. • Not Too Strong Suction Power. • No Smartphone App & Wi-Fi Support. • Doesn't Have Path-Planning Feature. • No deep-cleaning function for carpets.
WAS THIS REVIEW HELPFUL TO YOU? IF YES, PLEASE SHARE IT WITH A FRIEND.