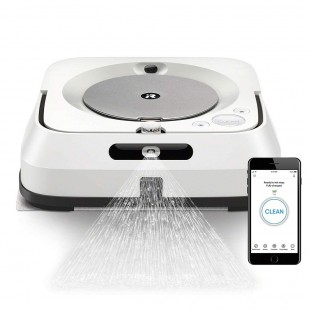 Reasons to buy iRobot Braava Jet m6:
Wi-Fi Connected Robot Mop
Multiple rooms & large spaces
Dynamic duo
Learns, maps, and adapts
Check price here....
summary Review:
PERFORMANCE

iRobot Braava Jet m6

CLEANS UNDER FURNITURE
COVERAGE
SUCTION POWER
IDEAL FOR HOMES WITH PETS
CLEAN CORNERS AND ALONG WALLS
BATTERY LIFE
CHARGE TIME
MULTI-FLOOR CLEANING
FOR LARGE ROOMS
AUTO DOCKS AND RECHARGE
RESUMES AFTER AUTO RECHARGING
MULTI-ROOM NAVIGATION
AVOIDS STAIRS AND OBJECTS
QUIET OPERATION
BOOSTS SUCTION POWER
HEPA FILTER
SWEEPS AND MOPS
CONCENTRATED CLEANING

USABILITY

iRobot Braava Jet m6

HASSLE FREE OPERATION
REMOTE CONTROL WITH MOBILE APP
WIFI CONNECTED
CAN BE SCHEDULED
WORKS WITH ALEXA
ZONE CLEANING

DESIGN

iRobot Braava Jet m6

LARGE DEBRIS BIN
LOW PROFILE DESIGN
BATTERY CAPACITY
DUST BIN CAPACITY
PRODUCT DIMENSIONS
WEIGHT

CONCLUSION
CLEANS UNDER FURNITURE
Yes
3.5 inches high – smoothly enters under furniture above its height. May not enter under furniture below its height.
IDEAL FOR HOMES WITH PETS
Yes
Uses dynamic duo to collect pet hairs and other particles from various floors. Sweeps and mops pet dander from open and hidden spaces.
CLEAN CORNERS AND ALONG WALLS
Yes
Removes debris from corners and along walls with maximized edge design. Enters into hard to reach areas and gathers all unwanted particles.
MULTI-FLOOR CLEANING
Yes
Cleans multi-floors such as hardwood, stone and tiles. Cleans them in a sequence of vacuuming and then mopping.
DEEP CLEANS THICK CARPETS
FOR LARGE ROOMS
Yes
Automatic recharge and resume suitable for large rooms. Dodges objects scattered on the floor of large rooms.
AUTO DOCKS AND RECHARGE
Yes
Runs back to charging station when battery is running low amidst a cleaning session. Charges automatically.
RESUMES AFTER AUTO RECHARGING
Yes
After recharge, Braava Jet M6 resumes cleaning the home. Suitable for large rooms that require longer time to be cleaned.
MULTI-ROOM NAVIGATION
Yes
Seamlessly navigates using patented iAdapty 3.0 Navigation along with vSlam technology from room to room. Learns, maps and then adapts to the entire home on a single floor
AVOIDS STAIRS AND OBJECTS
Yes
Cleans around the objects and furniture on the floor. Avoids stairs and other cliffs.
SWEEPS AND MOPS
Yes
Dry sweeps and wet mops various floor types
CONCENTRATED CLEANING
Yes
Spot cleaning mode – uses precision jet spray to eliminate every sticky mess, grime and other stubborn dirt.
HASSLE FREE OPERATION
Yes
Simple three button operation- just attach a dry sweep or wet mop. Turn it on, click clean and Braava Jet M6 will automatically choose a cleaning mode for you or you can schedule cleaning using the mobile app.
REMOTE CONTROL WITH MOBILE APP
Yes
iRobot Home App – download the mobile app onto your Smartphone device. Allows you to monitor and control unit from wherever you are.
WIFI CONNECTED
Yes
Allows wifi connectivity – bond it to your home wifi
CAN BE SCHEDULED
Yes
Can be scheduled using iRobot Home App. Set the time and day you want it to clean in advance. Obeys schedule without you reminding it.
WORKS WITH ALEXA
Yes
Voice command through Alexa and Google assistants. Lets you have a hands free operation from anywhere.
ZONE CLEANING
Yes
Smart mapping with vSlam technology allows zone cleaning. Lets you control which areas you want clean and the ones you don't want cleaned.
LOW PROFILE DESIGN
Yes
3.5 inches low profile design – it will not get stuck under furniture that is above its height. Effectively cleans areas you couldn't reach on your own.
PRODUCT DIMENSIONS
Yes
10 x 10.6 x 3.5 inches
PROS
Yes
• Uses maximized edge design for corners and edges • Automatically chooses the cleaning method • Can be scheduled to clean in advance • Automatically docks and recharges • Can dry sweep and wet mop multiple floor surfaces • Resumes cleaning automatically after recharge • Allows voice control through Alexa and Google assistant • Removes stubborn messes using precision jet spray • Will learn, map and adapt to your home • Uses a back and forth method to mop • Can be connected to Smartphone wifi • Only specific areas can be cleaned • Suitable for homes with dogs, cats and other pets • Very simple to set up robot • Low profile design of only 3.5 inches tall • Navigates back and forth for effective cleaning
CONS
Yes
• Not suitable for deep cleaning thick carpets • Will not automatically empty the dust bin • Might miss a cleaning spot • Cannot climb over thresholds to clean • Uses seamless navigation system - does not plan routes • Does not feature a full bin indicator
WAS THIS REVIEW HELPFUL TO YOU? IF YES, PLEASE SHARE IT WITH A FRIEND.