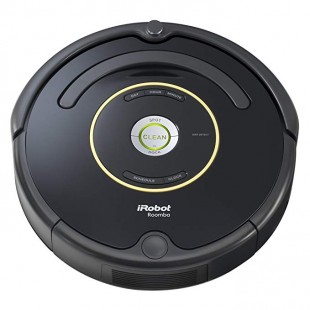 Reasons to buy iRobot Roomba 650:
Able to clean all floor types
Good suction power
Able to clean edges, corners and below low profile furniture
Can be scheduled for seven days
Check price here....
summary Review:
PERFORMANCE

iRobot Roomba 650

CLEANS UNDER FURNITURE
COVERAGE
SUCTION POWER
IDEAL FOR HOMES WITH PETS
CLEAN CORNERS AND ALONG WALLS
BATTERY LIFE
CHARGE TIME
MULTI-FLOOR CLEANING
AUTO DOCKS AND RECHARGE
MULTI-ROOM NAVIGATION
AVOIDS STAIRS AND OBJECTS

USABILITY

iRobot Roomba 650

HASSLE FREE OPERATION
CAB BE SCHEDULED

DESIGN

iRobot Roomba 650

LOW PROFILE DESIGN
BATTERY CAPACITY
DUST BIN CAPACITY
VIRTUAL WALL INCLUDED
PRODUCT DIMENSIONS
WEIGHT

CONCLUSION
CLEANS UNDER FURNITURE
Yes
At just 3.6 inches tall, Roomba 650 can fit under most furniture where dirt hides most.
SUCTION POWER
Yes
600 Pa - apparently this model is not too strong but it can remove dust from all floors including carpets
IDEAL FOR HOMES WITH PETS
Yes
With its medium suction power, Roomba 650 can capture and remove pet hair left on floors and carpets. It can also be in position to remove large debris like cereals.
CLEAN CORNERS AND ALONG WALLS
Yes
It's spinning side brushes can sweep along the wall edges and corners of the room. No dirt will be left behind. If dirt is embedded on the floor, the spinning brushes will loosen it and remove it from the floor.
BATTERY LIFE
Yes
It is powered by a 3000 mAh battery which runs for 90 minutes and its charge time is 180 minutes. This makes Roomba 650 ideal for medium to large sized rooms
CHARGE TIME
Yes
180 Minutes – this will give you 90 minutes of run time.
MULTI-FLOOR CLEANING
Yes
It can clean both bare floor types and carpet floor types. Bare floor types include: hardwood, marble, vynil, tile, laminate, linoleum WHILE for the carpet floors it will only clean low-pile, medium-pile carpets. IT CAN'T WORK ON VERY THICK CARPETS
DEEP CLEANS THICK CARPETS
AUTO DOCKS AND RECHARGE
Yes
Yes, once the battery runs low, this unit can auto dock and recharge until the battery is full. But it can't auto resume after charging
RESUMES AFTER AUTO RECHARGING
MULTI-ROOM NAVIGATION
Yes
Yes, this robot can move from room to room, it does don't have a mapping floor technology so it cleans randomly, moving from room-to-room. That is why it comes with a Virtual Wall barrier that that prevents it from entering certain rooms.
AVOIDS STAIRS AND OBJECTS
Yes
Using its cliff-detection sensors, Roomba 650 will always avoid stairs and related drop-offs while navigating the floor. This safety feature prevents the robot from accidents that could lead to fatal damages.
HASSLE FREE OPERATION
Yes
All you have to dio is to press buttons found on top of the robot. Create cleaning schedules via the control panel.
REMOTE CONTROL WITH MOBILE APP
LOW PROFILE DESIGN
Yes
Features a 3.58 inches / 9.1 cm low profile design which enables it to clean under furniture and sofas.
BATTERY CAPACITY
Yes
3000 mAh – strong enough to give you 90 minutes of runtime.
DUST BIN CAPACITY
Yes
400 ml – Not too big for very large debris.
VIRTUAL WALL INCLUDED
Yes
Yes, it comes with one virtual wall. Always place this virtual wall in a room where you don't want the robot to go. This virtual wall has signals which stop the robot from moving into restricted areas or rooms.
PRODUCT DIMENSIONS
Yes
13.4 x 3.6 x 13.4 inches
PROS
Yes
• Worth the money - it cleans effectively • Automatically Docks and Recharges when battery runs low • Powerful battery of 3000 mAh lasts longer - 90 minutes of running time • Has a virtual wall barrier which prevents it from entering specific rooms • Create cleaning schedules for 7 days • Extracts embedded debris • Cleans walls and edges effectively • Cleans under furniture • Low profile design • Good battery life - 90 minutes on a 180 minutes charge
CONS
Yes
• It does not have a mapping feature - cleans randomly • Poor Suction Power, • Can't be remotely controlled with a mobile app, Not Alexa compatible, • Features a small dustbin of 400 ml - this means you have to empty it so many times, • Does not have a HEPA Filter which eliminates allergens and dust mites, • It does not wet mop the floor as some advanced robotic vacuums do, • Makes some little noise • Not Wi-fi supported. • It is expensive • Does not empty its self • Can't be programmed to clean specific areas • Can't vacuum tick carpets • Does not have a full bin indicator • Does not have a carpet boost function
WAS THIS REVIEW HELPFUL TO YOU? IF YES, PLEASE SHARE IT WITH A FRIEND.