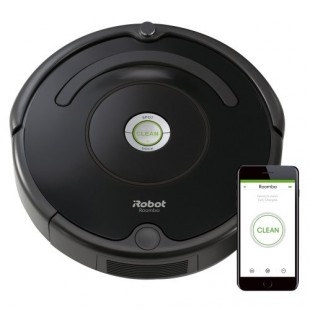 Reasons to buy iRobot Roomba 675:
Thoroughly cleans low pile, medium pile carpets and rugs
Thoroughly cleans low pile, medium pile carpets and rugs
Low profile design of only 9.1 cm
Great at removing pet hairs
Check price here....
summary Review:
PERFORMANCE

iRobot Roomba 675

CLEANS UNDER FURNITURE
COVERAGE
SUCTION POWER
IDEAL FOR HOMES WITH PETS
CLEAN CORNERS AND ALONG WALLS
BATTERY LIFE
CHARGE TIME
MULTI-FLOOR CLEANING
AUTO DOCKS AND RECHARGE
MULTI-ROOM NAVIGATION
AVOIDS STAIRS AND OBJECTS
QUIET OPERATION
BOOSTS SUCTION POWER
HEPA FILTER
MAPS & PLANS ROUTE
SWEEPS AND MOPS
CONCENTRATED CLEANING

USABILITY

iRobot Roomba 675

HASSLE FREE OPERATION
REMOTE CONTROL WITH MOBILE APP
WIFI CONNECTED
CAN BE SCHEDULED
WORKS WITH ALEXA

DESIGN

iRobot Roomba 675

LOW PROFILE DESIGN
BATTERY CAPACITY
DUST BIN CAPACITY
VIRTUAL WALL INCLUDED
PRODUCT DIMENSIONS
WEIGHT

CONCLUSION
CLEANS UNDER FURNITURE
Yes
9.1 cm above the ground – will clean under furniture above 9.1 cm and may fail to clean under furniture below 9.1 cm.
COVERAGE
Yes
150 square meters – suitable for small sized homes
SUCTION POWER
Yes
600 Pa – low suction power. However its able to lift and suction all the debris from open and hard to reach spaces.
IDEAL FOR HOMES WITH PETS
Yes
Features dual multi surface brushes that effectively pull together every pet hair and other residues from the floors and carpets.
CLEAN CORNERS AND ALONG WALLS
Yes
Roomba 675 features an edge sweeping brush – has a 27 degree angle to reach your home corners and edges.
BATTERY LIFE
Yes
90 minutes – after this, it docks and recharges automatically
MULTI-FLOOR CLEANING
Yes
The auto adjust cleaning head is suitable for multi floor cleaning. Adjusts its head according to the surface to maintain close contact. Cleans low pile and medium pile carpets, marble, hardwood, laminate, vynil, linoleum and tile.
DEEP CLEANS THICK CARPETS
AUTO DOCKS AND RECHARGE
Yes
Returns to the charging station when battery is low or after cleaning automatically.
RESUMES AFTER AUTO RECHARGING
MULTI-ROOM NAVIGATION
Yes
The full suite of intelligent sensor guides the Roomba 675 to move from room to room on a single floor. Randomly navigates at it avoids objects on the floors and falling off cliffs.
AVOIDS STAIRS AND OBJECTS
Yes
Uses the full suite of intelligent sensors to avoid stairs and objects
HEPA FILTER
Yes
Features another kind of filtration system that removes particles and other debris from your home.
MAPS & PLANS ROUTE
Yes
Randomly navigates through the home
SWEEPS AND MOPS
Yes
Only sweeps floors and carpets
CONCENTRATED CLEANING
Yes
Concentrated cleaning through patented dirt detect sensors. Puts more effort on areas with high levels of traffic.
HASSLE FREE OPERATION
Yes
Schedules and cleans from anywhere and anytime through the Home App for a hassle free operation.
REMOTE CONTROL WITH MOBILE APP
Yes
Download the iRobot Home App on your mobile phone and control Roomba 675 remotely.
WIFI CONNECTED
Yes
Connect to your home wifi
CAN BE SCHEDULED
Yes
Set cleanings in advance through scheduling the robot to clean up to seven times per week.
WORKS WITH ALEXA
Yes
Compatible with Amazon ALexa – use voice prompts to control robot
LOW PROFILE DESIGN
Yes
Low profile design of 9.1 cm – allows the robot effectively clean below most beds, sofas, kickboards and furniture in a home
BATTERY CAPACITY
Yes
1800 mAh – enough to clean a small sized apartment
DUST BIN CAPACITY
Yes
350 ml – make sure to empty the dustbin frequently to maintain robots performance
VIRTUAL WALL INCLUDED
Yes
The box includes virtual walls – draw an invisible line to prevent the robot from going to some areas it has been restricted from.
PRODUCT DIMENSIONS
Yes
13.4 x 13.4 x 3.5 inches
PROS
Yes
• Includes virtual walls in the box • Thoroughly cleans low pile, medium pile carpets and rugs • Relatively quite operation • Anti drop and cliff sensor • Supports Amazon Alexa and Wifi connectivity • Long battery run time – 90 minutes • Docks and recharges automatically • 27 angle degree side sweeping brush – sweeps corners and edges • Dual multi surface brushes • Triple stage cleaning system • Low profile design of only 9.1 cm • Great at removing pet hairs
CONS
Yes
• Doesn't have an LCD display unit • Small debris capacity – only 350 ml • Very low suction power of only 600 Pa • The filter is not Hepa - has another kind • Doesn't provide wet mopping • Will not map or plan cleaning routes • No carpet boost function • Hard to know when debris bin is full • Won't resume automatic after recharge
WAS THIS REVIEW HELPFUL TO YOU? IF YES, PLEASE SHARE IT WITH A FRIEND.