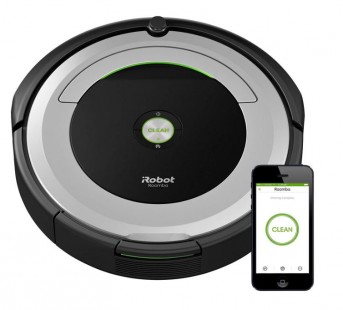 Reasons to buy iRobot Roomba 690:
Ideal for homes with Pet Hair
Ideal for both medium and large rooms
Can be controlled remotely with a smart phone
Compatible With Alexa
See price on Amazon
summary Review:
PERFORMANCE

iRobot Roomba 690

CLEANS UNDER FURNITURE
COVERAGE
SUCTION POWER
IDEAL FOR HOMES WITH PETS
CLEAN CORNERS AND ALONG WALLS
BATTERY LIFE
CHARGE TIME
MULTI-FLOOR CLEANING
FOR LARGE ROOMS
AUTO DOCKS AND RECHARGE
MULTI-ROOM NAVIGATION
AVOIDS STAIRS AND OBJECTS
QUIET OPERATION
CONCENTRATED CLEANING

USABILITY

iRobot Roomba 690

HASSLE FREE OPERATION
REMOTE CONTROL WITH MOBILE APP
WIFI CONNECTED
CAN BE SCHEDULED
WORKS WITH ALEXA

DESIGN

iRobot Roomba 690

LOW PROFILE DESIGN
BATTERY CAPACITY
DUST BIN CAPACITY
VIRTUAL WALL INCLUDED
PRODUCT DIMENSIONS
WEIGHT

CONCLUSION
CLEANS UNDER FURNITURE
Yes
It 9.3cm raised from the ground - so it can clean under furniture above 9.3cm. But if the furniture is below 9.3cm it won't be able to go under it.
COVERAGE
Yes
1830 sq.ft - Ideal for both medium and large rooms
SUCTION POWER
Yes
600 pa - power suction power. Though it can be used on hard floors and low pile carpets or rugs.
IDEAL FOR HOMES WITH PETS
Yes
Even though the suction power is 600 Pa, it can pick up pet hair from the floor and a low pile carpet. But it might not perform very well on thick carpets.
CLEAN CORNERS AND ALONG WALLS
Yes
With its long side brush, Roomba 690 can reach corners
BATTERY LIFE
Yes
90 minutes of runtime – not the best but still its not too bad. Though when it comes to cleaning a large area the robot will need to automatically dock, recharge and finish the job.
CHARGE TIME
Yes
120 minutes - this is the normal charging time for all Roomba Robots.
MULTI-FLOOR CLEANING
Yes
Can move from floor to floor without losing suction power. Floor types include: hardwood, marble tile, vynil, ceramic tile, laminate and linoleum while Carpet types include; low-pile, medium-pile
DEEP CLEANS THICK CARPETS
FOR LARGE ROOMS
Yes
Yes, it has a wide coverage of about 1830 Sq.ft. This can be cleaned in 90 minutes, so if the room is larger than that, the robot will auto dock and recharge the battery for net usage.
AUTO DOCKS AND RECHARGE
Yes
After the 90 min run time, Roomba 690 will automatically go back to the charging dock to recharge its battery.
RESUMES AFTER AUTO RECHARGING
MULTI-ROOM NAVIGATION
Yes
After the 90 min run time, Roomba 690 will automatically go back to the charging dock to recharge its battery.
AVOIDS STAIRS AND OBJECTS
Yes
Features a full suite of intelligent sensors to detect objects and cliffs on the floors. It will avoid bumping into furniture but it will around them very well. When it meets cliffs, it changes direction.
QUIET OPERATION
Yes
68 db – operates quietly
CONCENTRATED CLEANING
Yes
Uses dirt detect sensors to locate areas with high concentration of dirt. Once it gets to such areas, it spins around the area so many times to ensure no dirt is left behind.
HASSLE FREE OPERATION
Yes
Can be operated with a iRobot smart phone app or Amazon Alexa. It also auto docks its self when the battery is low. So you don't have to be around it all the time.
REMOTE CONTROL WITH MOBILE APP
Yes
Install iRobot mobile app and create cleaning schedules remotely or changing its direction when its performing.
WIFI CONNECTED
Yes
Can be synced with your home's Wifi.
CAN BE SCHEDULED
Yes
Via your iRobot Smartphone App, you can create cleaning schedules for a week.
WORKS WITH ALEXA
Yes
You can easily control it with Voice using Amazon Alexa.
LOW PROFILE DESIGN
Yes
9.3cm above the ground
BATTERY CAPACITY
Yes
1800 mAh – Quite good battery but not the best on the market.
DUST BIN CAPACITY
Yes
600 ml – Not so big, you might need to empty it often if the area to be cleaned is too dirty.
VIRTUAL WALL INCLUDED
Yes
Comes with one virtual wall unit that you can use to prevent the robot from reaching a specific room.
PROS
Yes
• Cleans all floor types and low pile carpets • Auto docks and recharges • It is compatible with Amazon Alexa • Can be scheduled • Can be controlled with a Smartphone • Has a virtual wall • Operates quietly • Low profile design
CONS
Yes
• Does not map and route • Does not auto resume • Does not have a bin indicator • No Zone Cleaning • Does not deep clean carpets
WAS THIS REVIEW HELPFUL TO YOU? IF YES, PLEASE SHARE IT WITH A FRIEND.