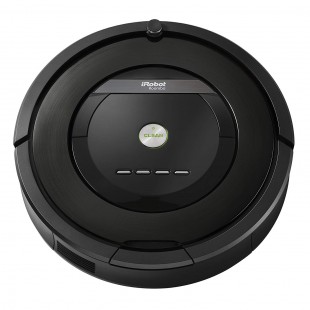 Reasons to buy iRobot Roomba 880:
Multi-room cleaning due to its iAdapt Responsive Navigation technology
Gently cleans wall edges and corners
It automatically docks and recharges
Concentrated cleaning function
Check price here....
summary Review:
PERFORMANCE

iRobot Roomba 880

CLEANS UNDER FURNITURE
COVERAGE
SUCTION POWER
IDEAL FOR HOMES WITH PETS
CLEAN CORNERS AND ALONG WALLS
BATTERY LIFE
CHARGE TIME
MULTI-FLOOR CLEANING
AUTO DOCKS AND RECHARGE
MULTI-ROOM NAVIGATION
AVOIDS STAIRS AND OBJECTS
QUIET OPERATION
BOOSTS SUCTION POWER
HEPA FILTER
CONCENTRATED CLEANING

USABILITY

iRobot Roomba 880

HASSLE FREE OPERATION
CAB BE SCHEDULED

DESIGN

iRobot Roomba 880

LOW PROFILE DESIGN
BATTERY CAPACITY
DUST BIN CAPACITY
FULL BIN INDICATOR
VIRTUAL WALL INCLUDED
PRODUCT DIMENSIONS
WEIGHT

CONCLUSION
CLEANS UNDER FURNITURE
Yes
With its low profile design. Roomba 880 can clean under beds, sofas, tables and kick boards. These are the places where dirt hides most.
COVERAGE
Yes
Multi-room coverage. Can clean both small and medium sized rooms.
SUCTION POWER
Yes
1000 Pa – better suction power than most robots
IDEAL FOR HOMES WITH PETS
Yes
Using its AeroForce 3-Stage cleaning system, the robot will be in position to capture and remove pet hair and debris left on the floor and carpet. You can also use the Concentrated cleaning function to vacuum areas where pets leave most. The dual counter-rotating extractors will reduce on hair tangles.
CLEAN CORNERS AND ALONG WALLS
Yes
Features Spinning side brushes which remove dirt from wall edges and corners
BATTERY LIFE
Yes
60 minutes when charged fully for 120 minutes
MULTI-FLOOR CLEANING
Yes
Able to clean floors and carpets of all types. The kind of floors it cleans include; tile, hardwood, laminate, linoleum WHILE the type of carpets it cleans include:low-pile and medium-pile carpets.
DEEP CLEANS THICK CARPETS
AUTO DOCKS AND RECHARGE
Yes
Since it battery lasts for a short while – 60 minutes, this robot will auto dock and recharge so that it is ready for next usage.
RESUMES AFTER AUTO RECHARGING
MULTI-ROOM NAVIGATION
Yes
With its Multi-Room Navigation system, Roomba 880 can move clean from room to room. But if you want to prevent it from reaching specific rooms, you can use the 2 Virtual Wall Lighthouses.
AVOIDS STAIRS AND OBJECTS
Yes
It automatically detects cliffs and stairs. So it won't fall easily when it reaches the stairs. Once senses, the robot will change direction.
QUIET OPERATION
Yes
Makes very little noise – it's not that disturbing
BOOSTS SUCTION POWER
Yes
The AeroForce 3‐Stage Cleaning System boosts suction power 5 times more. Thus making it easier to remove debris and stubborn dirt on the floor and carpet.
HEPA FILTER
Yes
Yes, it features HEPA filters which capture 99% of allergens and dust mites that could make you sick.
CONCENTRATED CLEANING
Yes
Uses Dirt Detect Series II technology that detects dirt that could go missing. With this technology, Roomba 880 can perform concentrated cleaning where it is needed.
HASSLE FREE OPERATION
Yes
Yes, you can control it remote control. Easily create schedules and manage movements of the remote from the comfort of your sofa.
REMOTE CONTROL WITH MOBILE APP
LOW PROFILE DESIGN
Yes
0.63 in - features a low profile designs, so it can clean under furniture easily
BATTERY CAPACITY
Yes
Lithium battery has 4400mAh, 14.4V and 63.36Wh. The battery lasts longer
DUST BIN CAPACITY
Yes
0.65 litres – you might need to empty it often so that the vacuum maintains its performance and suction power.
FULL BIN INDICATOR
Yes
It features a full bin indicator to let you know that the bin is full and it needs emptying.
VIRTUAL WALL INCLUDED
Yes
2 virtual walls are included. You can use them in rooms or areas where you don't want the robot to reach.
PROS
Yes
• Very Easy to use • It cleans effectively • Will Clean under furniture • Hassle free operation • Cleans hardwood floors • Captures and removes Pet hair • Can be used in Carpeted rooms • Can clean Medium to Large rooms • Performs very well in high traffic rooms
CONS
Yes
• Battery runtime is very low compared to other robot vacuum cleaners • Has a small debris bin • It Misses some spots even with the concentrated cleaning • Makes some noise • It clogs easily • Long charge time
WAS THIS REVIEW HELPFUL TO YOU? IF YES, PLEASE SHARE IT WITH A FRIEND.