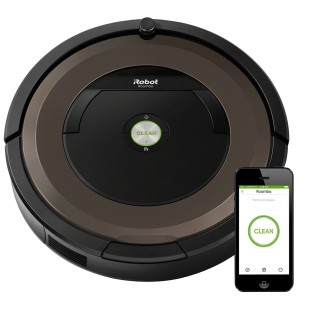 Reasons to buy iRobot Roomba 890:
Can be controlled with Voice using Amazon Alexa
Cleans hard floors and low pile carpets
High Efficiency Filtration System captures 99% allergens
Cleans under furniture and avoids obstacles
See price on Amazon
summary Review:
PERFORMANCE

iRobot Roomba 890

CLEANS UNDER FURNITURE
COVERAGE
SUCTION POWER
IDEAL FOR HOMES WITH PETS
CLEAN CORNERS AND ALONG WALLS
BATTERY LIFE
CHARGE TIME
MULTI-FLOOR CLEANING
AUTO DOCKS AND RECHARGE
MULTI-ROOM NAVIGATION
AVOIDS STAIRS AND OBJECTS
QUIET OPERATION
BOOSTS SUCTION POWER
HEPA FILTER
CONCENTRATED CLEANING

USABILITY

iRobot Roomba 890

HASSLE FREE OPERATION
REMOTE CONTROL WITH MOBILE APP
WIFI CONNECTED
CAN BE SCHEDULED
WORKS WITH ALEXA

DESIGN

iRobot Roomba 890

LOW PROFILE DESIGN
BATTERY CAPACITY
DUST BIN CAPACITY
FULL BIN INDICATOR
VIRTUAL WALL INCLUDED
PRODUCT DIMENSIONS
WEIGHT

CONCLUSION
CLEANS UNDER FURNITURE
Yes
With a height of 9.14 cm - this robot can clean under furniture which is above 9.14 cm off the ground.
COVERAGE
Yes
969 Sq.ft – Ideal for medium rooms
SUCTION POWER
Yes
1000 Pa – Not as powerful as I expected.
IDEAL FOR HOMES WITH PETS
Yes
Features a High-Efficiency Filter that captures 99% of allergens, dust and pet hair - making your room cleaner.
CLEAN CORNERS AND ALONG WALLS
Yes
Perfectly cleans corners and wall edges. The tangle free brushes will sweep out dust and pet hair that hides inn wall edges and corners of your room.
BATTERY LIFE
Yes
60 minutes – does not keep power for long. It will always go back to the charging dock when vacuuming a large room.
CHARGE TIME
Yes
120 Minutes – So far the best charging time.
MULTI-FLOOR CLEANING
Yes
Able to clean all floor types such as; tiles, hardwood, laminate, linoleum and low pile carpets.
DEEP CLEANS THICK CARPETS
AUTO DOCKS AND RECHARGE
Yes
Yes, it automatically goes back to the charging station for recharging so that it is ready for next usage.
RESUMES AFTER AUTO RECHARGING
MULTI-ROOM NAVIGATION
Yes
It does not have a mapping system but it can clean from room to room.
AVOIDS STAIRS AND OBJECTS
Yes
Its strong sensors will detect objects on the floor and stairs thus preventing Roomba 890 from falling off stairs & cliffs.
QUIET OPERATION
Yes
68 db - makes some little noise
BOOSTS SUCTION POWER
Yes
With the Power-Lifting Suction Mode - the Robot will deliver 5x more suction power
HEPA FILTER
Yes
The High Efficiency Filter captures and removes 99% of allergens, pollens, pet dander and small particles of about 10 microns. The filter does this when the robot is cleaning your room.
CONCENTRATED CLEANING
Yes
With the Dirt Detect Sensors, the robot will be alerted when it gets to areas with a high concentration of dirt. It will around the area until its 100% dust free.
HASSLE FREE OPERATION
Yes
You can control it with a mobile App or Amazon Alexa.
REMOTE CONTROL WITH MOBILE APP
Yes
Install the iRobot mobile app and be in position to create cleaning schedules and also monitor cleaned areas.
WIFI CONNECTED
Yes
Syncs with your home Wifi – making it easier to operate remotely.
CAN BE SCHEDULED
Yes
You can create cleaning schedule for a full week.
WORKS WITH ALEXA
Yes
Through your home WIFI, synch Amazon Alexa with Roomba 890.
LOW PROFILE DESIGN
Yes
9.4 cm – not too low as compared to other robots.
DUST BIN CAPACITY
Yes
300 ml – Very small as compared to the other robotic vacuums
FULL BIN INDICATOR
Yes
Once the bin is full, the robot stops functioning. So it is better you operate it while you're at home, the bin is small so it requires emptying during the cleaning cycle.
VIRTUAL WALL INCLUDED
Yes
Comes with dual mode virtual wall barrier which keeps the robot in one room and stops it from going to other rooms.
PROS
Yes
• It Cleans Effectively • It Cleans Under Furniture • It Is Very Easy To Use • Hassle Free Operation • Works with Amazon Alexa • HEPA Filter
CONS
Yes
• Small Debris Bin • Short Run Time • Does not wet mop • Does not map the floor • No ZONED cleaning
WAS THIS REVIEW HELPFUL TO YOU? IF YES, PLEASE SHARE IT WITH A FRIEND.