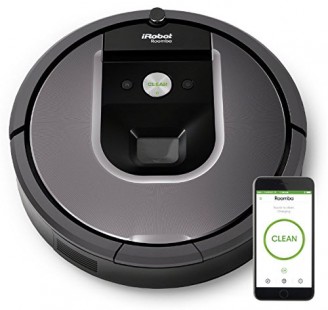 Reasons to buy iRobot Roomba 960:
Works with Amazon Alexa - can be controlled with voice
Hassle free management - create cleaning schedules with your Smartphone
Dual Multi-Surface Rubber Brushes
High-Efficiency Filter captures 99% of allergens and dust as small as 10 microns
See price on Amazon
summary Review:
PERFORMANCE

iRobot Roomba 960

CLEANS UNDER FURNITURE
COVERAGE
SUCTION POWER
IDEAL FOR HOMES WITH PETS
CLEAN CORNERS AND ALONG WALLS
BATTERY LIFE
CHARGE TIME
MULTI-FLOOR CLEANING
AUTO DOCKS AND RECHARGE
RESUMES AFTER AUTO RECHARGING
MULTI-ROOM NAVIGATION
AVOIDS STAIRS AND OBJECTS
QUIET OPERATION
HEPA FILTER
MAPS & PLANS ROUTE
CONCENTRATED CLEANING

USABILITY

iRobot Roomba 960

HASSLE FREE OPERATION
REMOTE CONTROL WITH MOBILE APP
WIFI CONNECTED
CAB BE SCHEDULED
WORKS WITH ALEXA

DESIGN

iRobot Roomba 960

LARGE DEBRIS BIN
LOW PROFILE DESIGN
BATTERY CAPACITY
DUST BIN CAPACITY
VIRTUAL WALL INCLUDED
PRODUCT DIMENSIONS
WEIGHT

CONCLUSION
CLEANS UNDER FURNITURE
Yes
8.9 cm - Very low profile design. It can easily clean under furniture
COVERAGE
Yes
1615 Sq Ft - Can be used in both large and medium sized rooms
SUCTION POWER
Yes
900 Pa - Lower suction power compared to other Series 900
IDEAL FOR HOMES WITH PETS
Yes
With its high efficiency filter that captures 99% of pet hair, allergens and dust - Roomba 960 can be used in homes with Pets.
CLEAN CORNERS AND ALONG WALLS
Yes
The Multi-Surface Tangle Free Rubber brushes will sweep and remove dust that is found in corners and on wall edges.
BATTERY LIFE
Yes
75 minutes – not too good but moderate.
CHARGE TIME
Yes
1 hour and 30 minutes – takes longer to charge and battery does not last for long
MULTI-FLOOR CLEANING
Yes
Types of carpets it can vacuum include: low-pile, medium-pile While the Type of floors it can clean include; hardwood, vinyl, marble tile, ceramic tile, laminate, linoleum
DEEP CLEANS THICK CARPETS
AUTO DOCKS AND RECHARGE
Yes
Since its battery life is 75 minutes, it might not be in position to vacuum a large area without Auto docking and recharging the battery. It will always detect a drop in battery charge and take its self to the charging station.
RESUMES AFTER AUTO RECHARGING
Yes
True, after recharging, the robot will resume with its cleaning task starting from where it ended. It follows a cleaning map and always saves it when its heading for auto recharging.
MULTI-ROOM NAVIGATION
Yes
Uses the iAdapt 2.0 Navigation with vSLAM technology to map its environment making it easier to clean from room to room.
AVOIDS STAIRS AND OBJECTS
Yes
With its Smart Navigation Sensors, Roomba 960 will easily detect cliffs and objects thus avoid them in advance - saving it from accidents that could result into serious damages.
QUIET OPERATION
Yes
65 db - makes some little noise but it is not that irritating.
HEPA FILTER
Yes
Features a High-Efficiency Filter which captures 99% of allergens, pollen, and dust as small as 10 microns
MAPS & PLANS ROUTE
Yes
Uses the iAdapt 2.0 Navigation System to map and plan its routes on the entire floor. You can easily see this map on your smartphone using iRobot App.
CONCENTRATED CLEANING
Yes
With the help of the Spot Cleaning Function, you will be in position to command the robot to concentrate on areas with lots of dirt. The robot will spin over that area to ensure that its 99% clean.
HASSLE FREE OPERATION
Yes
It auto docks, recharges and resumes with its cleaning tusk without need for help. Once it gets full, the full bin indicator alerts you to empty the bin.
REMOTE CONTROL WITH MOBILE APP
Yes
You can control it with iRobot Mobile App. Create cleaning schedules while on the Go. Check out its mapped route – know which areas have been cleaned.
WIFI CONNECTED
Yes
It is Wifi Enabled – This makes it easier to control the device using Amazon Alexa Voice Control Device.
WORKS WITH ALEXA
Yes
Supports Amazon Alexa Voice Control Device
LARGE DEBRIS BIN
Yes
600 ml – quite large compared to other models. But remove very large debris from the floor to avoid quick fill-up.
LOW PROFILE DESIGN
Yes
This model is designed to clean under furniture that is 3.6 inches tall. It can clean under the table, sofas, toe kicks, and other hard-to-clean areas.
BATTERY CAPACITY
Yes
2600 mAh - Not too powerful and not too weak. This robot might not do well on very thick carpets that require maximum suction power.
DUST BIN CAPACITY
Yes
600 ml - bigger than most robots. You might not need to empty the bin often.
VIRTUAL WALL INCLUDED
Yes
Comes with 1 Dual Mode Virtual Wall which you can use to prevent the robot from reaching certain areas.
PRODUCT DIMENSIONS
Yes
13.8 x 13.8 x 3.6 inches
PROS
Yes
• It seamlessly navigates room to room to clean an entire level of your apartment • Can be scheduled with iRobot HOME App • Compatible with Alexa • Has a bigger dust bin of 600 ml • HEPE Filtration system captures and eliminates 99% of dust mites and allergens • Ideal for homes with Pets • Comes with a Virtual Wall which prevents it from accessing specific areas.
CONS
Yes
• Poor battery running time • Charges for longer hours • Low suction power
WAS THIS REVIEW HELPFUL TO YOU? IF YES, PLEASE SHARE IT WITH A FRIEND.