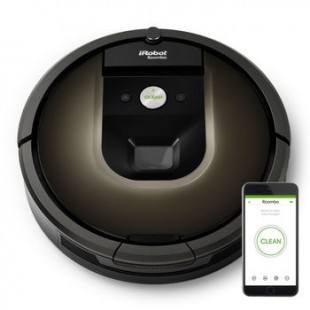 Reasons to buy iRobot Roomba 980:
Very effective on thick carpets
Ideal for homes with pets and kids
It runs up to 120 minutes
It automatically recharges and resumes with the cleaning job
Check price here....
summary Review:
PERFORMANCE

iRobot Roomba 980

CLEANS UNDER FURNITURE
COVERAGE
SUCTION POWER
IDEAL FOR HOMES WITH PETS
CLEAN CORNERS AND ALONG WALLS
BATTERY LIFE
CHARGE TIME
MULTI-FLOOR CLEANING
DEEP CLEANS THICK CARPETS
FOR LARGE ROOMS
AUTO DOCKS AND RECHARGE
RESUMES AFTER AUTO RECHARGING
MULTI-ROOM NAVIGATION
AVOIDS STAIRS AND OBJECTS
QUIET OPERATION
BOOSTS SUCTION POWER
HEPA FILTER
MAPS & PLANS ROUTE
CONCENTRATED CLEANING

USABILITY

iRobot Roomba 980

HASSLE FREE OPERATION
REMOTE CONTROL WITH MOBILE APP
WIFI CONNECTED
CAB BE SCHEDULED
WORKS WITH ALEXA

DESIGN

iRobot Roomba 980

LARGE DEBRIS BIN
LOW PROFILE DESIGN
BATTERY CAPACITY
DUST BIN CAPACITY
VIRTUAL WALL INCLUDED
PRODUCT DIMENSIONS
WEIGHT

CONCLUSION
CLEANS UNDER FURNITURE
Yes
Due to its low profile design – 3.60 inches - Roomba 980 can clean under furniture, sofas and under the bed.
COVERAGE
Yes
1991 Sq.ft – ideal for large rooms and apartments
SUCTION POWER
Yes
1700 Pa – the carpet boost function boosts suction power when the robot goes over a thick dirty carpet.
IDEAL FOR HOMES WITH PETS
Yes
Yes, Roomba 980 is deal for homes with pets - Features Tangle-free Dual Multi-Surface brushes which deal with pet hair with ease. Also the high-efficiency filter is able to capture 99% of allergens, dust, pollen and small particles of 10 microns.
CLEAN CORNERS AND ALONG WALLS
Yes
Side brushes will capture and remove dirt and debris that are found in the corners of your room and on wall edges.
BATTERY LIFE
Yes
120 minutes – enough time to clean a large room
MULTI-FLOOR CLEANING
Yes
It is able to clean all floor types. The auto-adjust cleaning head can easily adapt to various floors. It's Multi-Surface Brushes will keep close contact with the surface ensuring effective cleaning of both hard floors and carpets.
DEEP CLEANS THICK CARPETS
Yes
Once it finds a thick carpet, it will automatically increase on its cleaning performance using a Power Boost function. This will ensure thorough or deep carpet cleaning. Also the AeroForce Cleaning system will loosen, lift and suction dirt 10x better than other robots
FOR LARGE ROOMS
Yes
Ideal for large rooms and apartments. With its 120 run time, recharge and resume function and the multi-floor cleaning capability, you have nothing to worry about.
AUTO DOCKS AND RECHARGE
Yes
Yes, the batter runs for 120 minutes. When the robot detects a decrease in battery level, it will auto dock and recharge.
RESUMES AFTER AUTO RECHARGING
Yes
Yes, after recharging the battery, the robot will resume with the cleaning tusk following its cleaning map.
MULTI-ROOM NAVIGATION
Yes
With the iAdapt 2.0 Navigation system with Visual Localization, Roomba 980 will easily navigate an entire level of your apartment while keeping track of its paths. Using its sensor, it will navigate around furniture but clean under the bed, furniture and sofas.
AVOIDS STAIRS AND OBJECTS
Yes
With its strong sensors, Roomba 980 can easily detect and avoid cliffs and stairs. As for the objects, it will move around them, pick dirt and create a new path.
QUIET OPERATION
Yes
70 db – quieter than most robots on the market
BOOSTS SUCTION POWER
Yes
Features a Power Boost Mode which turns on automatically when the Robot meets a thick carpet which requires deep cleaning.
HEPA FILTER
Yes
Instead of a HEPA Filter, this model uses an AeroForce High-Efficiency Filter which captures 99% of allergens, particles as small as 10 microns and pollen that could make you sick.
MAPS & PLANS ROUTE
Yes
Creates a map for the entire floor and follows that when vacuuming
CONCENTRATED CLEANING
Yes
When you press the Spot Mode, Roomba 980 will thoroughly clean a localized area by spiraling about 1 meter in diameter and then it goes back to where it started.
HASSLE FREE OPERATION
Yes
You can easily control it with a mobile Application or use voice control function.
REMOTE CONTROL WITH MOBILE APP
Yes
Roomba Mobile App is available for both Android and Apple. Install it and start creating cleaning schedules and monitor cleaning maps.
WIFI CONNECTED
Yes
Yes, can be connected to your home Wifi Network. This makes it compatible with Amazon Alexa and the Google Assistant.
WORKS WITH ALEXA
Yes
Talk to Alexa and tell it to turn on Roomba 980. Immediately the robot will respond and start cleaning.
LARGE DEBRIS BIN
Yes
Yes, its dust bin can accommodate large debris. But to maintain good performance, you have to empty the bin once its full.
LOW PROFILE DESIGN
Yes
3.60 inches - height. Can clean under the bed and sofa.
DUST BIN CAPACITY
Yes
600 ml – that is about 0.65 litres
VIRTUAL WALL INCLUDED
Yes
Comes with a virtual wall which you can use to block the robot from reaching specific areas.
PRODUCT DIMENSIONS
Yes
13.9 x 13.9 x 3.6 inches
PROS
Yes
• Deep cleans thick carpet • Ideal for homes with pets • Battery runs for a long time • Mapping and smart navigation • Works on all floor types • Very strong suction power • Compatible with Amazon Alexa • Bigger dustbin capacity • HEPA filtration - removes 99% of allergens and dust • Cleans Under Furniture • Hassle Free Operation • Performs well In High Traffic Rooms
CONS
Yes
• Does not empty the dust bin - you have to do it manually • Does not wet mop the floor • Not so good on High Pile shag rugs
WAS THIS REVIEW HELPFUL TO YOU? IF YES, PLEASE SHARE IT WITH A FRIEND.