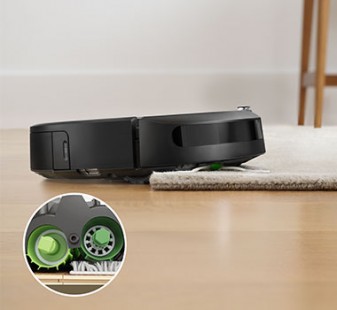 Reasons to buy iRobot Roomba e5 5134:
It can be connected to WI-FI
Uses a patented 3-stage cleaning system with dual multi-surface brushes
Auto Adjust cleaning head cleaning head
Auto docks to recharge
Check price here....
summary Review:
PERFORMANCE

iRobot Roomba e5 5134

CLEANS UNDER FURNITURE
IDEAL FOR HOMES WITH PETS
CLEAN CORNERS AND ALONG WALLS
BATTERY LIFE
CHARGE TIME
MULTI-FLOOR CLEANING
DEEP CLEANS THICK CARPETS
AUTO DOCKS AND RECHARGE
RESUMES AFTER AUTO RECHARGING
MULTI-ROOM NAVIGATION
AVOIDS STAIRS AND OBJECTS
BOOSTS SUCTION POWER
HEPA FILTER
MAPS & PLANS ROUTE
SWEEPS AND MOPS
CONCENTRATED CLEANING

USABILITY

iRobot Roomba e5 5134

HASSLE FREE OPERATION
REMOTE CONTROL WITH MOBILE APP
WIFI CONNECTED
CAN BE SCHEDULED
WORKS WITH ALEXA

DESIGN

iRobot Roomba e5 5134

LOW PROFILE DESIGN
BATTERY CAPACITY
DUST BIN CAPACITY
FULL BIN INDICATOR
VIRTUAL WALL INCLUDED
PRODUCT DIMENSIONS
WEIGHT

CONCLUSION
CLEANS UNDER FURNITURE
Yes
It can clean under furniture above 9.4 cm. But if the furniture is below 9.4cm off the ground, the robot might fail to clean under it.
IDEAL FOR HOMES WITH PETS
Yes
Yes, it is ideal for homes with pets.
CLEAN CORNERS AND ALONG WALLS
Yes
Cleans corners with its 27 degree angle Edge Sweeping brush
MULTI-FLOOR CLEANING
Yes
Is built with an Auto adjust cleaning head for different floor surfaces
DEEP CLEANS THICK CARPETS
Yes
Features Auto Adjust cleaning head that adapts its height to allow the multi-surface brushes remain in close contact with carpets
AUTO DOCKS AND RECHARGE
Yes
It automatically returns to the charge base and recharge at the end of a cleaning cycle or when the battery is running low
RESUMES AFTER AUTO RECHARGING
MULTI-ROOM NAVIGATION
Yes
Can clean from room to room without bumping into any objects
AVOIDS STAIRS AND OBJECTS
Yes
Yes, it has a Cliff Detect Sensor that prevents the robot from falling downstairs or tumbling over drop-offs in the house
HEPA FILTER
Yes
Has a HEPA FILTRATION SYSTEM which captures pollutants and allergens that go in the air when the robot is cleaning your house.
HASSLE FREE OPERATION
Yes
Can be controlled with a mobile app or Amazon Alexa – hassle free operation
REMOTE CONTROL WITH MOBILE APP
Yes
Use the iRobot Mobile App to control the device. Via this Mobile App – you can create cleaning schedule for a week.
WIFI CONNECTED
Yes
Can be connected a Wifi Connection in your home.
CAN BE SCHEDULED
Yes
Create a 7 days cleaning schedule using the iRobot Mobile App
WORKS WITH ALEXA
Yes
Control the device with Voice Commands using Amazon Alexa.
LOW PROFILE DESIGN
Yes
Has a height of 9.4 cm - not too low as the other robots but it can still clean under furniture above 9.5 cm off the ground.
BATTERY CAPACITY
Yes
1,800 mAh – Not too powerful but it can still do a great job on Hard floors and medium pile carpets.
DUST BIN CAPACITY
Yes
500 ml - very small dust bin. You will need to empty it often because Roomba stops working when the bin is full.
FULL BIN INDICATOR
Yes
Has a full bin indicator. The robot stops working once the bin is full.
VIRTUAL WALL INCLUDED
Yes
It comes with a Virtual wall which prevents it from going to the other rooms.
PROS
Yes
• It contains a Dirt Detect Technology that recognises areas concentrated with dirt and dust and then provides additional cleaning for those areas or spots • Edge cleaning master to clean the edges of stairs • It has a powerful suction • Thorough coverage • Long runtime of up to 90 minutes • It is simple setup • Sleek and premium design • It is great for homes with pets • Hassle free operation • One button cleaning convenience
CONS
Yes
• It is noisy • It has a small debris bin • It easily clogs • it is difficult to clean
WAS THIS REVIEW HELPFUL TO YOU? IF YES, PLEASE SHARE IT WITH A FRIEND.