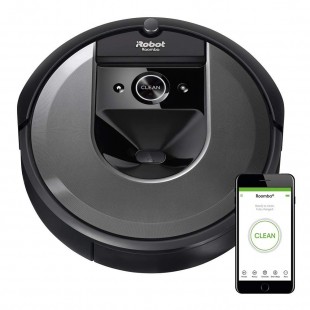 Reasons to buy iRobot Roomba i7:
Best for homes with pets due to its 3 stage cleaning system and HEPA filter
Auto resumes after recharging
High performance
Automatically empties its self
Check price here....
summary Review:
PERFORMANCE

iRobot Roomba i7

CLEANS UNDER FURNITURE
COVERAGE
SUCTION POWER
IDEAL FOR HOMES WITH PETS
CLEAN CORNERS AND ALONG WALLS
BATTERY LIFE
CHARGE TIME
MULTI-FLOOR CLEANING
DEEP CLEANS THICK CARPETS
FOR LARGE ROOMS
AUTO DOCKS AND RECHARGE
RESUMES AFTER AUTO RECHARGING
MULTI-ROOM NAVIGATION
AVOIDS STAIRS AND OBJECTS
QUIET OPERATION
BOOSTS SUCTION POWER
HEPA FILTER
MAPS & PLANS ROUTE
CONCENTRATED CLEANING

USABILITY

iRobot Roomba i7

HASSLE FREE OPERATION
REMOTE CONTROL WITH MOBILE APP
WIFI CONNECTED
CAB BE SCHEDULED
WORKS WITH ALEXA
ZONE CLEANING

DESIGN

iRobot Roomba i7

LOW PROFILE DESIGN
BATTERY CAPACITY
DUST BIN CAPACITY
VIRTUAL WALL INCLUDED
PRODUCT DIMENSIONS
WEIGHT

CONCLUSION
CLEANS UNDER FURNITURE
Yes
Its height is 3.62 inches. Similar height with all Roomba Vacuum cleaners. It can clean under furniture effectively.
COVERAGE
Yes
1991 Sq.ft – can be used in both medium and large rooms
SUCTION POWER
Yes
1700 Pa – stronger than most robot vacuums
IDEAL FOR HOMES WITH PETS
Yes
Due to its High-Efficiency Filter which captures 99% of pet allergens and the Premium 3-stage cleaning System which captures more pet hair in a single pass. This model is ideal for homes with pets.
CLEAN CORNERS AND ALONG WALLS
Yes
Its Dual Multi-Surface Rubber Brushes keep close contact with the surface, so they can clean wall edges and corners effectively
BATTERY LIFE
Yes
120 minutes – enough to clean a large room or apartment
MULTI-FLOOR CLEANING
Yes
Its cleaning brush is designed with rubber treads that work on different floor surfaces - hard floors and carpets. They do adjust and flex so as to capture every small particle and dirt.
DEEP CLEANS THICK CARPETS
Yes
Its Power boots function and Power-Lifting suction will deliver 10X more air for deep carpet cleaning
FOR LARGE ROOMS
Yes
Can be used in large rooms due to its long run time of 120 minutes.
AUTO DOCKS AND RECHARGE
Yes
Yes, Roomba i7 auto docks its self after the 120 run time and recharges the battery to full capacity – getting ready for next usage.
RESUMES AFTER AUTO RECHARGING
Yes
After recharging the battery, Roomba i7 will auto resume with the cleaning task. It will start from where it stopped.
MULTI-ROOM NAVIGATION
Yes
It can clean from room-to-room. The robot uses an Imprint Smart Mapping technology which helps it to know each room in your house. So it will clean from one room to another.
AVOIDS STAIRS AND OBJECTS
Yes
Uses its strong camera and sensors to detect cliffs and stairs.
QUIET OPERATION
Yes
Noise level is 65 db – not too loud as vacuum sticks.
BOOSTS SUCTION POWER
Yes
Boosts suction power 10x when it gets to areas with lots of dust. It also boosts its power when it gets to thick carpets.
HEPA FILTER
Yes
Features a High Efficiency HEPA filtration system which captures 99% of allergens, dust mites and small particles that could make you sick.
MAPS & PLANS ROUTE
Yes
With the Imprint™ Smart Mapping technology and iAdapt 3.0 Navigation, Roomba i7 will plan and understand the entire floor of your home or apartment.
CONCENTRATED CLEANING
Yes
Uses the Advanced Dirt Detect Technology to detect high concentration of dirt in an area thus perform concentrated cleaning in that area.
HASSLE FREE OPERATION
Yes
Can be operated with a mobile application or a voice control device like Amazon Alexa. Create cleaning schedules via your mobile app and also monitor performance.
REMOTE CONTROL WITH MOBILE APP
Yes
Install iRobot mobile application and connect with Roomba i7 from anywhere.
WIFI CONNECTED
Yes
Uses wifi connectivity to sync with Amazon Alexa and iRobot mobile App
WORKS WITH ALEXA
Yes
Can be controlled by voice using Amazon Alexa. All you have to do is to speak with Amazon Alexa to turn on Roomba i7.
ZONE CLEANING
Yes
Use the Spot Mode to command Roomba i7 to thoroughly clean areas with high concentration of dirt
LOW PROFILE DESIGN
Yes
3.62 inches – height. With this low profile, Roomba i7 go under the sofa and low profile furniture above 3.62 inches
VIRTUAL WALL INCLUDED
Yes
Comes with a dual mode virtual wall barrier
PRODUCT DIMENSIONS
Yes
13.3 x 13.3 x 3.6 inches
PROS
Yes
• Long battery runtime • HEPA Filtration • Equally good on hardwood and carpet • Ideal for regular cleaning • Cleans Effectively • Hassle Free Operation • Very Easy To Use • Cleans Under Furniture • Can be controlled with a smart phone • Strong suction power • Mapping and Smart Navigation system
CONS
Yes
• It is not fast • Small dust bin • Automatic Dirt Disposal is sold separately
WAS THIS REVIEW HELPFUL TO YOU? IF YES, PLEASE SHARE IT WITH A FRIEND.