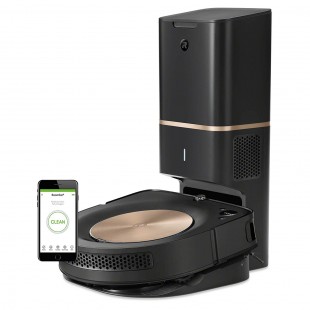 Reasons to buy iRobot Roomba s9 Plus:
40x Powerful Suction
Automatic Dirt Disposal
Anti-Allergen System
Wi-Fi Connected
Check price here....
summary Review:
PERFORMANCE

iRobot Roomba s9 Plus

CLEANS UNDER FURNITURE
COVERAGE
SUCTION POWER
IDEAL FOR HOMES WITH PETS
CLEAN CORNERS AND ALONG WALLS
BATTERY LIFE
CHARGE TIME
MULTI-FLOOR CLEANING
DEEP CLEANS THICK CARPETS
FOR LARGE ROOMS
AUTO DOCKS AND RECHARGE
RESUMES AFTER AUTO RECHARGING
MULTI-ROOM NAVIGATION
AVOIDS STAIRS AND OBJECTS
QUIET OPERATION
BOOSTS SUCTION POWER
HEPA FILTER
MAPS & PLANS ROUTE
CONCENTRATED CLEANING
EMPTIES ON ITS OWN

USABILITY

iRobot Roomba s9 Plus

HASSLE FREE OPERATION
REMOTE CONTROL WITH MOBILE APP
WIFI CONNECTED
CAN BE SCHEDULED
WORKS WITH ALEXA
ZONE CLEANING

DESIGN

iRobot Roomba s9 Plus

LARGE DEBRIS BIN
LOW PROFILE DESIGN
BATTERY CAPACITY
DUST BIN CAPACITY
FULL BIN INDICATOR
PRODUCT DIMENSIONS
WEIGHT

CONCLUSION
CLEANS UNDER FURNITURE
Yes
Height is 3.2 inches. Very low profile design – so it can clean under low profile furniture.
COVERAGE
Yes
1991 Sq.ft - Covers quite a wide area. Uses vSLAM Visual Navigation system to map and remember areas to be cleaned.
SUCTION POWER
Yes
40x Suction Power - The 3 stage cleaning system detects thick carpets and boosts the robot's suction power 40 times - stronger than Roomba i7 Plus.
IDEAL FOR HOMES WITH PETS
Yes
With the power boost technology, Roomba S9 can capture and remove pet hair left on carpets and hard floors. It also uses Dual Multi-Surface rubber brushes to clean wall edges where pet hair might hide.
CLEAN CORNERS AND ALONG WALLS
Yes
With its D-shaped design and PerfectEdge Technology, Roomba s9 can perfectly clean Corners, Edges and the details in between.
BATTERY LIFE
Yes
120 minutes – just like Roomba i7 PLUS. This is a enough vacuuming time. If the room is not covered within that time, the robot will go back to the charging dock and resume with the cleaning process.
MULTI-FLOOR CLEANING
Yes
Uses its Dual Multi-Surface Rubber to clean both hard floors and carpets. When it gets to carpets, it boosts its suction power 40 times
DEEP CLEANS THICK CARPETS
Yes
Cleans Deeper than all robotic vacuum cleaners on the market. When it gets to thick carpets, it boosts its suction power 40x thus living no dust in the carpet.
FOR LARGE ROOMS
Yes
Can be used in very large rooms of about 1991 Sq.ft
AUTO DOCKS AND RECHARGE
Yes
Once the battery is low, the robot will automatically dock its self for re-charging.
RESUMES AFTER AUTO RECHARGING
Yes
After recharging, Roomba s9 PLUS continues with its cleaning tusk. However, it keeps memory of where it stopped, so that is where it resumes from.
MULTI-ROOM NAVIGATION
Yes
Can clean from room to room. It maps the all floor and know where to start from.
AVOIDS STAIRS AND OBJECTS
Yes
With its strong sensing technology, Roomba s9 PLUS automatically detects stairs objects on the ground – it cleans around them but does not bump into them. When it comes to stairs, it avoids them to prevent accidents.
QUIET OPERATION
Yes
65 lb – the same noise level as Roomba i7 plus
BOOSTS SUCTION POWER
Yes
It boosts suction power 40x – better than Roomba i7 plus and other robot vacuum cleaners on the market.
HEPA FILTER
Yes
The High Efficiency HEPA filtration system will capture germs, air pollutants, pollen, dust and pet dander from the air in your room.
MAPS & PLANS ROUTE
Yes
Uses the vSLAM Visual Navigation to map and remember all cleaning routes.
CONCENTRATED CLEANING
Yes
Comes with an Advanced Dirt Detect Technology which detects high concentration of dirt. So when it gets to an area with lots of dirt, it will spin over the same area capturing both large and small debris
EMPTIES ON ITS OWN
Yes
Once the dust bin is full, the robot empties the bin on its own. So you don't have to bother yourself with emptying the bin.
HASSLE FREE OPERATION
Yes
Can be controlled with a mobile application. Via the phone, you can create cleaning schedules and monitor covered areas.
REMOTE CONTROL WITH MOBILE APP
Yes
Yes, simply download iRobot Mobile App.
WIFI CONNECTED
Yes
It is Wifi Enabled – sync it with your home Wifi and control it with Amazon Alexa device.
CAN BE SCHEDULED
Yes
Create cleaning schedules for a week using iRobot HOME App.
WORKS WITH ALEXA
Yes
Yes, can connect very well with Amazon Alexa. This will enable you control the device using voice commands.
ZONE CLEANING
Yes
The Spot Mode feature can be used to command Roomba s9 Plus to clean specific areas.
LOW PROFILE DESIGN
Yes
3.62 inches tall - can go under furniture above 3.62 inches.
FULL BIN INDICATOR
Yes
Has a full bin indicator which lights up when the bin is full. However, that shouldn't worry you – simply because the robot will self empty its self.
PRODUCT DIMENSIONS
Yes
12.2 x 12.2 x 3.5 inches
PROS
Yes
• Empties its self • 40x more suction power • Recharge & Resume, Intelligent Navigation, Entire Level Cleaning • Clean or schedule by room • Wi-Fi & Smart Home Connected • Cleans carpet and hard floors • 3-Stage Cleaning System • Automatic Dirt Disposal • Anti-Allergen System • Cleans Wall Edges and corners very well
CONS
Yes
• Expensive • Does not come with Virtual Walls
WAS THIS REVIEW HELPFUL TO YOU? IF YES, PLEASE SHARE IT WITH A FRIEND.