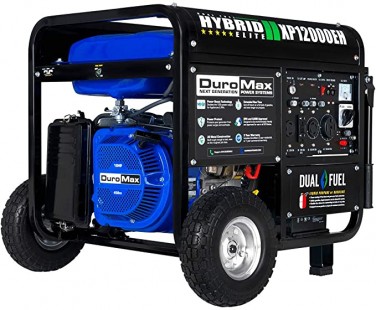 Reasons to buy DuroMax XP12000EH:
Ideal for House, Camping, Parties and Rv
Unique MX2 switch, which doubles your 120-volt amperage for heavy loads.
Can run on Propane or Gasoline.
It has got a powerful Duromax engine.
Check price here....
summary Review:
PERFORMANCE:

DuroMax XP12000EH

Portable
Starting Watts
Running Stats
Run Time on Full Tank
Recoil Start
Electric Start
Dual Fuel
AMPERAGE
VOLTAGE
FREQUENCY
HORSEPOWER
ENGINE TYPE
ENGINE SPEED
CARB Compliant
EPA Certified
Easy to Start
Fuel Tank Capacity (Gasoline)
Suggested Tank Size (Propane)
Runtime (Gasoline)
Runtime (Propane)
Low Oil Shut-Off
Air Cooled
Engine Capacity
Voltmeter
Noise Level (dBA)
Multi-Purpose
Heavy Duty
Framed for Durability
Starting method
RV Ready
Gas Powered
FUEL TYPE

DESIGN:

DuroMax XP12000EH

Open Frame
Outlets
Portable
Handle style
Warranty
Dimensions
Included Accessories
Weight
Wheel type

SAFETY:

DuroMax XP12000EH

Low Oil Indicator
Low oil shutdown
Noise Level

CONCLUSION
Portable
Yes
Yes it is a portable generator
RV Ready
Yes
With its fordable handles, wheels and various outlets - this model is RV ready
Run Time on Full Tank
Yes
8.83 hours(gasoline) and 7.2hours(propane)
Recoil Start
Yes
You can manually start or pull start the engine using a rope start.
Electric Start
Yes
Features a user-friendly keyed electric start
Dual Fuel
Yes
Uses Propane & Gasoline
VOLTAGE
Yes
120V / 240VAC & 12VDC
ENGINE TYPE
Yes
4-CYCLE AIR-COOLED SPARK-IGNITION
CARB Compliant
Yes
Yes, it's CARB Compliant
EPA Certified
Yes
Yes It is EPA certified
Easy to Start
Yes
It's easy to start. Electric Start - no manual work required
Fuel Tank Capacity (Gasoline)
Suggested Tank Size (Propane)
Low Oil Shut-Off
Yes
Yes it has a low oil shut-off – Which Protects your generator by automatically shutting it off when it senses that the oil is low.
Air Cooled
Yes
Yes it can be cooled by air
Voltmeter
Yes
It is 12000eh voltmeter
Noise Level (dBA)
Yes
It's at 74Db at 1/4 load - With an oversized noise reducing muffler with a built-in spark arrestor which enables smooth and quiet operation.
Multi-Purpose
Yes
Yes its multi-purpose. For house , parties , RV, camping
Heavy Duty
Yes
It performs heavy duties – Can be used as back-up for house, can also be used on parties.
Open Frame
Yes
Yes it has got an open frame
Outlets
Yes
(Two) - 120V 20A GFCI Outlet, (One) - 120V 30A Twist Lock, (One) - 120/240V 30A Twist Lock, (One) - 120/240V 50A Heavy Duty Outlet.
Portable
Yes
You can transport it anywhere
Wheel type
Yes
It has solid fill-wheels
Handle style
Yes
Fold-able handles – make it easy to transport
Dimensions (LxWxH, inches)
Included Accessories
Yes
Oil Funnel, Spark Plug Wrench, Tool Set, Wheel & Handle Kit, DC Charging Cables and Owner's Manual
Low Oil Indicator
Yes
The generator shuts down indicating low oil level
Low oil shutdown
Yes
Yes the generator shuts down in case the oil level is low
Pros
Yes
• Affordable and versatile than a standby generator while still holding enough power for running household appliances. • Great for keeping the essential electronics running at home and • Suitable as a work site generator. • The installation process of the generator is easier and also more affordable. • Portable. • Its covered by a 3 –year factory warranty. • Its engine is powerful.
Cons
Yes
• The engine produces a dangerous chemical which causes cancer, birth defects or other reproductive harm. • Incase Gasoline is ignited, a person maybe burnt or injured since Gasoline is highly flammable and explosive. • Exhaust contains poisonous carbon monoxide gas that can build up to dangerous levels in closed areas hence breathing it can cause unconsciousness or death. • Improper connection to a building can allow electrical current to back feed into utility lines creating an electrocution hazard. • The generator is potential source of electrical shock if not kept dry. • The generator makes a lot of noise hence ending up polluting the environment.
WAS THIS REVIEW HELPFUL TO YOU? IF YES, PLEASE SHARE IT WITH A FRIEND.